Notes,
sentimentalities, brief fictions and essays



---
back cover of Álibi, album by Maria Bethânia, 1978.
a play to be read rather than acted
---
The girl stepped out of the closet at Satan's command." Captain Satan vol 2,1938.
closet play / playing one's closet


Since the time of its first publication in 1936, Djuna Barnes' Nightwood has been the subject of numerous scholars and modernist readers. Barnes' self-proclaimed dark horse positionality, the most famous unknown writer in the world, indeed does justice to the kind of mainstream praise Nightwood has received and still receives nowadays. A working-through of love which blurs the boundaries between the gothic and the modern, the private and the public, religion and sexuality, day and night, life and art. Something about these characters and what they strange, seemed interesting to revisit in the light of recent theoretical explorations on Barnes' oeuvre, in specific, Nick Salvato's Uncloseting Drama whose plea to look closely at the contribution Djuna Barnes has made to the closet drama genre holds the key to much of my current fascination with her legacy.




The critical difference of Salvato's project is that of troubling the notion of closet drama, which for too long resided in the shadow (or closet) of its own peculiarity. By complicating the reading and development of this genre from its original premise (a play to be read rather than acted) Salvato is invested in the study of modernist drama through the outlook of the closet, a space which is often half open, half closed, half biographical, half mythical. In his own words, closet drama is "a conceptual tool that can fruitfully guide an analysis of texts with complex relationships to drama and theatre; and part of what makes the tool a fruitful one is the elasticity, rather than the givenness, of closet drama as an indexical term." (Salvato, "Uncloseting Drama: American Modernism and Queer Performance," 4)

In his backing of Djuna Barnes, for Salvato playfully attributes a sexual carrying out to each of his chapters, he wants to move away from the oftentimes undermining analysis of Barnes' theatre, which departing from the claim that, maybe, she has been sexually abused during youth and emphasising on her victimisation, reduces the literary genius of Djuna Barnes to the work of a troubled mind. Yet, her complexification of sexuality is as challenging and knotty as her ways with words, her turning of sentences and her unorthodox punctuation, adding to the creation of that unknown-known realm present in all of Barnes' writing.

Although Salvato's essay is mainly concerned with her writing for theatre, it paves the way to understand the many entanglements of Djuna Barnes' work with the performative, thus allowing me to further speculate on Nightwood as closet drama, with all the risk and disavowal this proposition might entail. Barnes' entanglement with the performative (in this case a literal and visceral one) dates back to her early Stunt Stories, short texts written for New York-based newspapers and magazines in the 1910s, in which she first and fore-mostly decided to experience the news of the day with her own body so she could then write about it through her lived experience. The most well known of these stunt pieces is How It Feels to Be Forcibly Fed, in which Barnes turned into private spectacle the forced-feeding procedure performed on hunger-striking suffragettes.



On September 6, 1914, the prolific writer, artist and journalist Djuna Barnes wrote How It Feels To Be Forcibly Fed for The World Magazine. Barnes was a reporter working on a series of "stunt stories."
nightwood as closet drama


Years later in Paris, away from her New York journalistic spectacles, Djuna Barnes lived the émigré life soon to be raw material of the novel in question. The world of Nightwood is a world of public secrets and private revenges, whose characters mirror those of Barnes' own biography, haunted by their allegiance to the night and its ghosts. The book is reputedly a roman-à-clef, a novel with a key, inspired by her relationship with American sculptor, Thelma Wood.

In the main narrative arch, Nora Flood searches aimlessly for her lover, Robin Vote. Both in the streets of Paris and inside the characters' minds, our attention falls on what is most bodily still ethereal, the turning-turtle of a queer ambiguity attributed to all of what unravels, a metaphysical transit that denounces a coming disintegration, a present gaze at a past which was Other and would soon cease to be, travelling through words between continents to which the characters remain foreign.

In, out and throughout, the closets performed in Nightwood are vast and many. The project of their uncloseting could start by understanding the novel's very à-clefness; by its very form which hides its content from the first comer; by doctor Matthew O' Connor, whose closet gravitates in the margins. From kitsch attribution to camp recognition, a history of literary secrets, omissions and inclusions that allow one to play one's closet and allow one to read another's closet.

These tools are the tools of the queer writer as much as of the queer reader, tools to intervene in a text's reception. But what if the queer reader would read it aloud, would the text care? The answer to this question is both no and yes, for it raises another problem, that of separation between text and author (not to mention ontological inquiries on what the text itself might think). And still, closet dramas at large (in their traditional understanding) always pose some difficulty for directors who want to stage them. There is always an impossibility, either narrative, interpretative or visual, something that challenges the limits of the theatre stage and what can be done within its walls. If wondering what Djuna Barnes would think about a stage-adapation of Nightwood, being Barnes notoriously known for having had strong opinions on the circulation of her work, I can only conclude she could, I think, reluctantly accept Nightwood to be read, word by word, comma after comma, aloud. Yet making sure the reader, the performer, would indeed get it just right.

Searching on google for stage adaptations of Nightwood, I click on a 2005 New Yorker article about actress Jane Alexander's one-woman show on the life of Djuna Barnes, What of the Night. Hilton Als describes the initial mise-en-scène as follows: "At the start of the play, a scrim separates the audience from the stage; on the screen, typewritten letters glow. The letters don't form words; they are simply the linguistic fragments that one needs in order to make language happen. Barnes is at the end of her life—she is done with language, or so she says. "No more novels, no plays, no poems," she insists. (Alexander, as the aged Barnes, uses her voice to particularly fine effect; she gets the transatlantic locution just right.)" (Als, "The Many Faces of Jane").

By thinking of Nightwood as closet drama we engage in the expanded notion proposed by Salvato as part of a larger uncloseting imperative. On the one hand, the novel articulates a certain kind of secrecy, a closet with its doors open to those who can interpret its journeys into the 'unknown' and its avant-garde treatment of gender and sexuality, coded in the author's masterful use of language. On the other hand, it is a text often accused of being too hermetic in its erudition, in its own play of dispersal, in its loosing of the reader through its pages.

Moreover, Nightwood bears a tangential relationship to drama due to the place it occupies in Barnes' body of work. For she previously engaged with the performative and subsequently with the dramatic text (her three-act tragedy, The Antiphon, a closet drama per excellence, was published in 1958). These engagements must have certainly influenced the novel's universe, since Nightwood has many stage-like qualities, and one cannot read it without feeling drawn to its theatricality, starting for the structure itself which resembles a six act play with prologue and epilogue, but also one featuring scenes that would certainly be nothing short of remarkable on stage: the carriage scene, in which Jenny and Robin fight over blood and tears, while Matthew O' Connor ostensibly condemns lesbianism and lectures on love; Nora walking up the stairs into Matthew's apartment and the weight of their furniture, their objects, their make-up, their smell, their chiffonier.

Some of the novel's passages, however, would make any theatre director spend a couple of sleepless nights, thinking of how to bring about on stage "it was not long after this that Nora and Robin separated; a little later Jenny and Robin sailed for America." (Barnes, "Nightwood," 120). As America is the eeriest of all places described by Barnes, and one that takes the form of a monument in Nora's mind, perhaps the impossibility of staging Nightwood lies indeed in its epilogue, The Possessed, a chapter as singular as the main character ("such a singular was Nora") where different temporalities overlap: Robin and Jenny who leave for America, Nora's America, Nora's dog barking at Robin, Robin who barks back at the dog, "but though those two are buried at opposite ends of the earth, one dog will find them both." (Barnes, "Nightwood," 158).



Alvin Lustig – cover design for Nightwood. New Directions, 1945.
technologies of the performative

As part of The Novel and Media, a roundtable discussion held in 2018 at Harvard's Mahindra Humanities Centre, Melissa Hardie proposed a reading of Nightwood as a networked object. Her main contention was the object of the novel itself as a kind of mediation, moving across media theory after cybernetics and departing from Alvin Lustig's design for a reprint of Nightwood commissioned by New Directions' New Classics in 1945.

Hardie's argument is illustrated by the interface of Lustig's cover design and the historical moment in which it appeared; being the transition from the 40's to the 50's a period marked by a growing concern with the future potential of modernist aesthetics. (Hardie, 1). The author calls attention to the fact that Barnes, while negotiating over the reprint for New Directions, was surprisingly less concerned with the cover than she was with the quality of the paper used in the edition. She wanted, in fact, an edition of Nightwood that would last a thousand years.

Thinking along Barnes' desire, the novel's materiality, its paper, its cover and its durability, I wonder how our modest project of reading Barnes' words aloud contributes to her wish of futurity? Perhaps it only does so through the power of her words themselves, the act of their invocation, their throwing in the air. Here, the question of technology is key: as we exchange the technology of the written to that of the spoken; from the body of text to the body of performance; from Barnes' voice to our voices. aligning ourselves to the history of slippages between the written and the spoken, for the history of theatre teaches us that there's much to say (or write) between the written and the spoken.

The future potential of something (be it any thing) always carries the question of tradition; more specifically, the preservation or reinvention of tradition as we move towards the future. Arguably is the technology of the performative a more fragile one than that of the written. If considering dramatic texts in Antiquity and assuming their ultimate end was always a live performance; the contact with an audience through an actor (a speaker) even if only at small gatherings; we come to understand that the experience of drama as written words on paper is a rather recent phenomenon.

Andrew White, whose reflection on the dramatic text as a form of recording technology is my basis for this reasoning, concludes that "in discussing the fate of drama among Greek speakers in the Eastern Roman Empire, a period spanning from Late Antiquity through the Fall of Constantinople in 1453, it is helpful to begin with the "how" of cultural transmission in those days, to better understand the "what" that has been the traditional focus of theatre history. For the better part of two thousand years written drama was more an aide-répétition (to borrow the French term 'for rehearsal') than an aide-mémoire. And it is the written word's subservience to the performed word that renders it, in a sense, a mode of recording technology." (White, 372).

When writing How It Feels to Be Forcibly Fed, Barnes had the task of reportage (taken in its widest sense) and yet being forcibly fed in itself must surpass all rendering through words (it must). This prior commitment with recording one's act and therefore immortalising one's act through words is helpful to problematise the very relation between the memory of the performance and the writing of the performance, to shift or blurr the status of importance between text and experience, for I believe that through that shifting we reach closet drama from its other end. On that note, by no means I am reducing Nightwood to a mere product of drama-recording (if only of one's personal drama) but I still find fruitful to reflect on this relation, aware that the adaptation of a literary work to the stage has its own set of politics which transcend the closet.
A still from the opening sequence of Repossessed, Bob Logan, 1990.
the repossessed

(The)
Repossessed
as a title appears in odd places, most notably, it is title to a 1990 American comedy film by Bob Logan which parodies
The Exorcist
, with Leslie Nielsen (a personal childhood hero) playing a priest who is set out to perform an exorcism on Nancy, possessed for the second time after twenty years. This time, the whole ordeal is televised (we are in the 90s after all) and the anchors from the TV show
Ernest and Fanny's Exorcism Tonight
are happy to have their largest audience in history. Another drama that transitions from the private into the public; from Nancy's bedroom to the TV audience and beyond.
After a few attempts to save the poor woman's body, including songs and phone donations, the devil tries to possess the souls of the audience members watching the show from the comfort of their living rooms. At last, only the sound of rock 'n roll is able to send him away from Nancy's body, through a collective endeavour in which several religious figures play
Devil with a Blue Dress On
.
Still and all, what is the relation between closet drama and this cheerful coincidence, and more, the relation between this cheerful coincidence and
Nightwood
? Complicating closet drama as a mode and not a genre, Nick Salvato confabulates on its survival through camp, against the often too-serious scholarly approach on this trope that contributes to its betrayal. The betrayal of its authors original intent (in the case of American modernism).
His affirmative use of camp is that of queer parody, "camp must be understood as a practice that calls attention to the constructedness and performativity of gender and sexuality" ; "camp must echo some preexisting text, tropes, or set of codes in this negotiation of gender and sexuality" (Salvato, "Tramp Sensibility and the Afterlife of Showgirls," 636).
Camp allows us to use and abuse the canon, its wrestling into motion in the troubled space of the closet and in the fragile arena of the theatre. I
back
our
closet drama reading of Nightwood
with the productive tensions proposed above, in the liberty they give us to activate a wide range of material, to bring it all together and fail, to wink at the audience members who share the same secret, and to invite the ones who do not. This act of adaptation is an act of repossession, thinking of the reader's voice as both a past and future technology of resistance and remembrance.
[Originally published as part of 'The (Re)possessed Issue' - a zine made by WORM Rotterdam and VHDG for the occasion of my same-title project at WORM in February 2020. 'The Repossessed' is a performative reading of Djuna Barnes' 1936 novel, Nightwood.]





---
WORKS CITED
Als, Hilton. "The Many Faces of Jane." The New Yorker, The New Yorker, 20 June 2017,
https://www.newyorker.com/magazine/2005/04/18/the-many-faces-of-jane
.
Barnes, Djuna. Nightwood. Faber & Faber, 2015.
"Spectacular Confessions: 'How It Feels to Be Forcibly Fed." (Essay) (Djuna Barnes)." The Free Library, https://www.thefreelibrary.com/Spectacular confessions: "How It Feels to Be Forcibly Fed." (essay)…-a014445070.
Barthes, Roland. The Grain of the Voice: Interviews, 1962-1980, trans. L. Coverdale, Hill & Wang, New York, 1985.
Creech, James.
Closet Writing/Gay Reading: Case of Melvilles "Pierre"
. Univ Chicago Press, 1994.
Derrida, Jacques, and Barbara Johnson.
Dissemination
. University Press, 1981.
Hardie, Melissa, et al. "The Novel and Media: Three Essays." Journal of Language, Literature and Culture, vol. 66, no. 1, Feb. 2019, pp. 1–15., doi:10.1080/20512856.2019.1595493.
Salvato, Nick. Uncloseting Drama: American Modernism and Queer Performance. Yale University Press, 2010.
Salvato, Nick. "Tramp Sensibility and the Afterlife of Showgirls." In Theatre Journal 58 (2006): 633-48.
Sedgwick, Eve Kosofsky. Epistemology of the Closet. University of California Press., 2008.
White, Andrew Walker. 2010. "Adventures in Recording Technology: The Drama-as-Performance in the Greek East." In Beyond the Fifth Century: Interactions with Greek Tragedy from the Fourth Century BCE to the Middle Ages, edited by Ingo Gildenhard and Martin Revermann, 371-396. Berlin, de Gruyter.
the skin of strangers - vol.2

---


The haircut I envisioned was a different one. For what I knew I had explained it to Jim meticulously. Instead he cut my hair in the image of his hair; letting me have control over our conversation, distracted, as I witnessed and let it happen. The pleasure I felt at having Jim's hands scrubbing my scalp was immeasurable, for that week had been so harsh but so harsh, and now besides art, we could also talk about love and we did talk about love. Jim had never been in love, or so he said. But he was a great counselor; a great love counselor. "One of my favorite writers wrote a book about hair" - I told him. "It's about a man wandering around Buenos Aires, looking for the perfect haircut. And this man is truly obsessed, this man is doomed to think of his hair; at times he thinks he must let his hair grow and at times he thinks he should shave his head forever."

In the past weeks I had gained back a great deal of confidence, it had to do with Jim's conditioner, yet not without a sudden hesitation, the feeling of wrong-doing, my blind trust in Jim and how the cut, perhaps, was not quite what I expected. In Jim's hair, now my hair, the curls were taking center stage, medium-short and close to the head, flowing downward in a pronounced swoop. The mépris of that novelty only came to me after an hour or two, when leaving Jim's to grab coffee at the parlour around the corner, hating the hair, hating myself, "for when you want something just because you want it, God ignores you, for when you need something, God will give it to you." My grandmother's voice echoed in my head, her semi-catholicism and the certainty that I understood her saying, or God's saying, wrong. She left this dimension about a year ago. I testified to her dying over the phone while running somewhere in between flights, in between continents; feeling nettled by my tears and what others might have thought of me then, when I learned that moving walkways are not made for people to stand but made for people to run. And I knew that already and I knew she was about to die, I said my goodbyes a week earlier when all I had was a week and yet I chose to stay with her for two days, not a week. She had a difficult character, a very difficult character, and both her daughters knew that; and my mom knew that, especially my mom, as she was the oldest.

The family had rambled the country for years and years, wandered about on heat. The father, my grandfather, was a colonel, and wherever the colonel had to be his family also had to be; and the wife, the mother, my grandmother, found great pleasure in that. They grew up with many stories, some great, some terrible but all real and some tragic. Once the grandfather crashed his motorbike on duty, his motorbike crashed into a pole and it was heartbreaking, a very heartbreaking scene, to see a young man, his life almost cut tragically short. A young man, then suffering from acute cough and pain in the joints, who had a hard time to balance on his feet, and yet liked to draw with his grandson or go out for walks by himself.

Now that environment, once so familiar to me, the grandson, had long disappeared in the grinding of time. And once the grandfather, on his own feet, left the house; the grandfather went for a walk but barely came back and the grandmother was so angry at him but so angry that she forgot to use her silver shampoo; and that day I noticed her hair was whiter than usual, a fact which I thought of again years later, when so did my mother start using silver shampoo and the thought of silver shampoo once again came to me while running on that moving walkway, running and running, on that travelator, as they say, travelling, travelling, crying because and despite the grandmother, who had just died and did not live despite her difficult character and what a difficult character that was.

But the grandson was so harsh on himself that he felt nettled by his own tears, and felt nettled by the thought of it a year later, when thinking of his grandmother, drinking coffee around the corner of his hairdresser, spending an hour or two at the hairdresser, thinking memories, coming and going, like storms of cloudy matter, at the thought that Jim would never use silver shampoo on his hair; for silver shampoo undid the working of time, gazing at the street from the coffee parlour, gradually becoming his own hair, my own hair.





And what does it mean to become one's own hair? The thought of this gesture, while looking at oneself in the mirror. What does it mean to become one's own hair while looking at oneself in the mirror? Since hair is so complicated, each strand, each filament, their innermost regions, so messily structured, all those layers and layers of history and I took a sip of the coffee and looked away, not in the mirror, but away: to become one's own hair, to rejoice that moment of doubt, the too short or too long of that doubt. But that Dutch man who lived in California, what was his name? That man who spread all his clothes on his rooftop in an attempt to say "This is me! This is me!" and he called it "All My Clothes" but what he actually did want to say was "This is me!" Since the act of this disclosure, to say it, to write it, is so full of shame. Since becoming one's hair is so shameful I looked away. Not in the mirror but away, and I thought of shame, encountering the waitress's eyes I thought of shame.

Her eyes were brown; the brown of autumn leaves, and autumn was indeed approaching fast. And at first I thought those eyes did not match her blonde hair at all. But what a striking look, for she stuck to brown mascara. We had, in fact, talked about this before. That coffee corner was a ritual I cherished. Occasionally me and the waitress exchanged words, Jim was also her client, he would open a tap there every morning and pay it at closing time. She knew many of his customers, and saw many haircuts to say the least. I never dared asking what she thought, I never dared really, but that day I asked. "It's short. Very short." - she replied.

That moment, the moment of shame, it was so mine, so unbearably my own; the moment when those kids looked at me and said all sorts of assumptious things; that gay childhood, that provincial origin of isolation and the resilience of a future possibility. But not just yet, not just yet. "It is short now but it will grow." At times he was so good with words and at others so bad with words. How to call it, how to name it; how to name what I felt. I was so good with words but then so bad at naming things, accepting things. My grandmother was so bad at accepting things, she barely accepted that my grandfather was unable to work. Yet she stood in that hospital corridor, with her husband unable to work, and when months later she read that report to him in bed, the official report which said he was definitely unable to work, concluding for official means the relation of cause and effect between his accident and his current state, she barely accepted it as she barely accepted my grandfather.


She was full of shame, so ashamed during those two days which we spent together when she shouted at the nurses, mistreated them and acted terribly bad because we all loved her despite all. We loved her despite all and yet she had to shout at them and act terribly bad because she was angry, angry and full of shame. And what a loving grandmother and a loving grandfather they were, but I was so ashamed I never dared really. But that day I did dare, I told her and she cried saying goodbye in my aunt's car, for she knew herself that was the last time and she was so happy, so angry and we were all so full, so full of shame.

As usual me and the waitress spoke about hair, I wanted to know if she had ever tried something crazy, something wild with her own hair. Her name was Lisa. I told her some of my grandmother's stories, my grandmother often had all these stories. I told her how once she applied hydrogen peroxide on her head and let the sun do its job. "Such a cheap way to go blonde." And she then told me of a long coming desire, of dyeing her hair blue, she also told me of all the dust in that shop, of all the hair in that dust. "Those hairs, all the hairs of Jim's customers." They kept breaking down into smaller and smaller particles all over the shop, and the brow hairs too and the eyelashes too, all becoming dust; and she never saw it happening at daytime, she never saw it happening but it did happen, for she always found hair-clouds at night as she vacuumed the floor.

---
1.
These Vintage Hair Dryer Photos Make it Seem Cool Under the Hood, Getty Images.
2.
All My Clothes, Bas Jan Ader, 1970.
#Epistolarities

---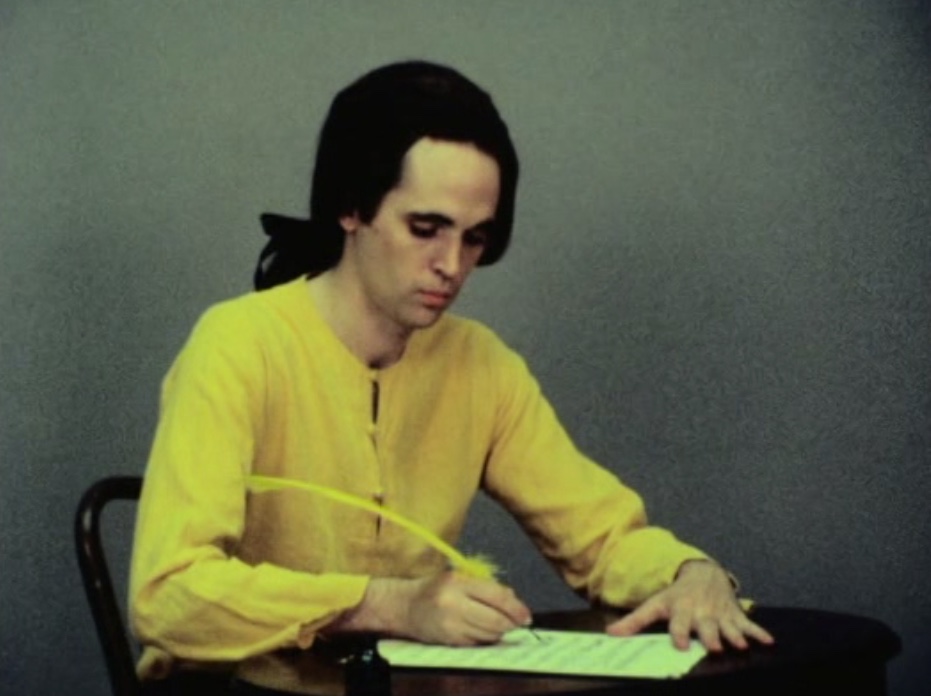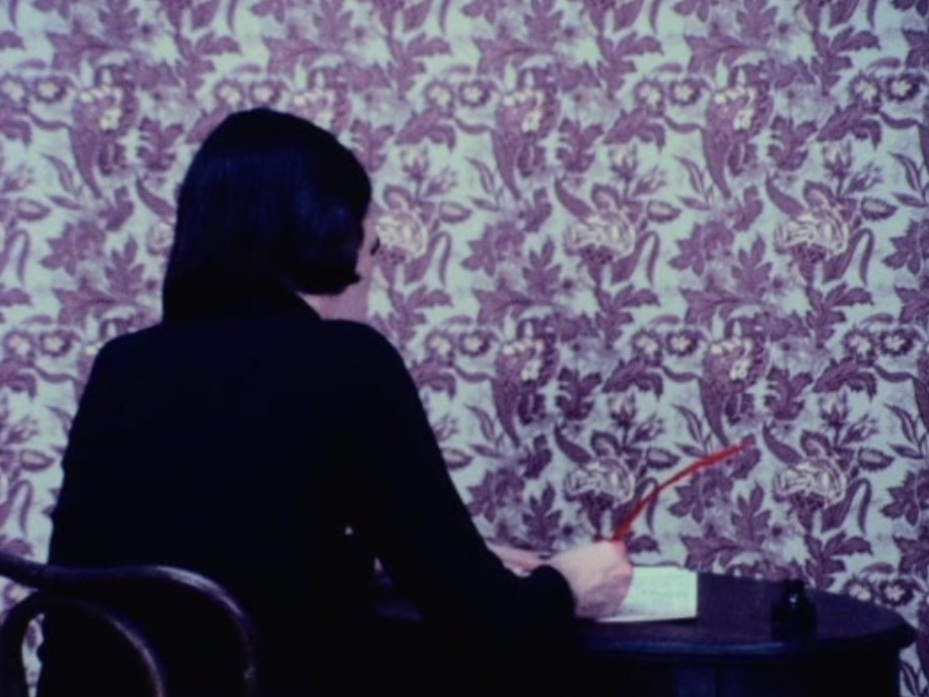 stills from Mozart in Love, Mark Rappaport, 1975.
Raden Saleh, devouring the Other

---
Theodor de Bry. Os Filhos de Pindorama - Cannibalism in Brazil,1557.
In a tropical May morning of 1811 Raden Saleh is born in Serboyo, near Semarang, present day Indonesia (according to a date written in a portrait drawing by Carl Vogel von Vogelstein). From an early age, he begins to draw and paint in Buitenzorg, under the tutelage of Antoine Payen (1792-1853). His talent and determination are soon noticed by the local colonial authorities. In the last months of 1828 a letter arrives from the Hague, sent by the then minister of Colonial Affairs, Jean Chrétien Baud to Governor J van den Bosch. In the letter, he asks the Governor-General to employ the young Saleh in the Netherlands. Raden Saleh leaves the Java of his youth and arrives in the French port of Anvers in 1829. The King of the Netherlands is happy to receive him as a child of the state.1



THE OWN AND THE OTHER
underlying


devouring the Other argues that a renewed attention must be given to the work of Raden Saleh (1814-1880) - the Javanese painter whose life entanglement with the Dutch colonial project (in the former East Indies) is a foundational narrative for the understanding of artistic instrumentalities in a colonial context. Historical reports on Raden Saleh's life derive from a wide range of archival documents and sources in the Bahasa Indonesia, German, French and Dutch language. The contemporary interest in his oeuvre is mainly due to the research work of art historians, Werne Kraus and Marie-Odette Scalliet, whose endeavours have consolidated the basis for further inquiry into Saleh and his time.2 In the past year, I have fervidly dove into these sources, most specifically the book, Raden Saleh: The Beginning of Modern Indonesian Painting (2012), which compiles Werner Kraus' essential writings on Saleh. Most of my research was conducted at the Rijksmuseum Library, at the very centre of the Dutch hegemonic past, surrounded by a mishmash of historical fiction and perceived reality. Perhaps the difference between our times (my time and the time of Saleh) is exactly what allows me the task of his unorthodox historicizing. Crossing through and hopefully beyond the legacy of our colonial past and present.

My position within this undertaking, is that of an artist whose interest in the life of the Indonesian painter, lies above all in the hybrid subjectivities that traverse his narrative. A Javanese scion who came to the Netherlands in 1829 to study painting, and through the rendering of his portraits, landscapes and experiences, constantly shifted between 'European' and 'Oriental' identities. The fragments that follow are an attempt to augment Raden Saleh's biography by reframing the social dynamics present in his life under the lenses of a 21st century decolonial (diasporic) identity. An imprecise attempt to access Saleh's intimate knowledge. Faulty already in its premise, since such proposition, by someone that not Saleh himself, is not truly possible. In that sense, the truth and intimacy of his own narrative is long gone. We can perhaps only decipher some hints of it here and there, through the attentive gaze of a brushstroke, or the reading of letters which were never aimed at posterity. But what then, constitutes one's intimate knowledge? Or further on, what informs Raden Saleh's subjectivity? Like him, I have left my country in an early age, and have dealt with the difficulties of belonging to either the former or the present. While at times, the later resembles to be pure fiction, the motherland is a monument in one's mind, impossible to be regained. And even if a reconciled return takes place, the sense of diasporic intimacy will most likely not be abandoned.

Growing up in Southern-Brazil exposed me to a childhood of conflicted heritage: my early memories are divided between the urban chaos and fast-paced rhythm of downtown Porto Alegre (the centre of Brazil's fifth largest metropolitan area, with approximately four and a half million inhabitants) and the idyllic life in the countryside of this Southernmost state, a melting pot of German and Italian colonization in South America. I contrast my short biography to that of Raden Saleh, as if we sat facing each other at a table. We talk about the art of fiction: I walk through the streets he once walked at and look for his apartment window at the Hoogstraat in the Hague... what was it that Saleh wished to say? Raden Saleh faced the silent hours and looked within for a deep answer; he used the things around him and learned them by the eye; created a new visual language. Landscapes and actions came together, yet even in their togetherness the question of their where still remains.

For Svetlana Boym, there is a strong relation between nostalgia and the experience of diaspora (251). The state of being home is a state of the unspeakable. The only means of its verbalizing is through one's mother tongue. There is a certain feeling that things are in their place as we know them, and at the same time home does not depend on an actual location. What we look for in the word home, is a sense of intimacy with the world.

The displacement from one's birthplace is a common characteristic to the human experience. Besides the different reasons for such forced or self-imposed exiles, there is an intimate understanding of one's foreign background informing each and every single one of these narratives. I long here for a nostalgia of Saleh's personal narrative. A narrative of the world he has himself discovered, in opposition to the narrative of imperialist nostalgia (Rosaldo, 68), which longs for the uncritical remembrance of what imperialism has transformed/destroyed. The nostalgia applied here is a deconstructive one, looking back to the past so as to retell stories that are not often told. Through which means can we imagine a 19th century diasporic intimacy, far from imperial nostalgia, but framed within the binary structures and hegemonic powers of the time? To metaphorically frame Raden Saleh's biography, in which the presence of the foreign has a structural impact, I will digress here into a topic essential to my artistic practice, the notion of anthropophagic thinking:

Anthropophagy as a discourse, is common to the Brazilian artistic-political lexicon. A concept thoroughly reworked since its birth in Oswald de Andrade's 1928 Cannibalist Manifesto3 by different areas of humanities. The re-working (or pimping, as the author will call it herself) rendered by Brazilian art critic Suely Rolnik ( 1948, Brazil) to Andrade's malleable introductory discourse, is what to me constitutes the core of anthropophagic thinking as a project for deconstructing colonial narratives. Rolnik's ideas present in this text are mainly withdrawn from her 2011 article: Avoiding False Problems: Politics of the Fluid, Hybrid, and Flexible. For the Brazilian modernists, Anthropophagy dates back to the cannibal practice of the Tupinambás (one of the many indigenous tribes present in Brazil before the Portuguese colonization) for whom the cannibal event, was part of a bigger and more complex ritual:



having killed the enemy, the executor would change his name and have scars made in his body during a long and rigorous period of reclusion [...] Only then was the body devoured, following a ritual of distribution
of its parts, and the killer would go into reclusion (Carneiro da Costa, 85).
over time, names would accumulate following each confrontation with a new enemy, along with the engraving of each name in the esh. The more names recorded in a body, the more prestigious their bearer. The existence of the Other—not one, but many and distinct— was thus inscribed in the memory of the body (Rolnik, "Avoiding False Problems").
The Rijksmuseum Research Library, Central Hall, June 1960.

For Oswald de Andrade (1890 - 1954), anthropophagy reflected the cultural liberation of the national colonial unconscious. Andrade's manifesto intended to spawn a style of Brazilian singularity; a violent literary expression of anti-colonialism, the clash between urban versus national, and last but not least, Brazil's primitive/ tribal heritage as a tool for the 'cannibalization' of other cultures; it was both a 'solution' and a remedy for the Brazilian identity crisis and the imperial domination through consumption. Although originally not intended as an academic campaign, it is considered the first truly Brazilian contribution to counter-colonial discourse. The figure of the cannibal as a cultural agent was a social emancipatory program. Suely Rolnik, in her pimping of the modernist lexeme, argues that the existence of an anthropophagic subjectivity is perhaps the main factor at work constituting one's intimate knowledge. In our 'globalized', capital driven project of humanity, the devouring of different cultures (and/or subjective systems of knowing) are the different names now present in our skin. Therefore, under anthropophagic lenses, the loss of the homeland and the possibility of multiple homelands are also a manifestation of the act of devouring and being devoured. Beyond geographic boundaries, the topsy-turvy cartography we deal with are the scars left-behind by the architects of the colonial project; their presence in individual narratives of migration and their erasure of a formerly-known locality of thought.
Hence, the reading I want to propose, is precisely concerned with the process of absorption and adaptation to different cultures present in the life of Raden Saleh as a key element. Bearing in mind the outlines of the anthropophagic program, my use of the word culture is a negotiation between its vernacular meaning - as the social-artistic traits of a particular community and the understanding formulated in 1874 by Edward Burnett Tylor, according to whom: "Culture or civilization, taken in its wide ethnographic sense, is that complex whole which includes knowledge, belief, art, morals, law, custom, and any other capabilities and habits acquired by man" (63).
Young Hadhrami immigrants landing in Surabaya, Dutch East Indies, 1920s.

In the preface of Raden Saleh: The Beginning of Modern Indonesian Painting, Werner Kraus reminds the reader that the openness of the Javanese aristocracy to Western influences and the social background of Saleh's family is one of the strongest factors that constitute the basis for his lifelong 'adventure'. Alongside the painter's will to explore the world outside Java and desire to absorb foreign influences. This compromise between the local and the foreign (the own and the Other) is strongly present in Raden Saleh's family history. Originating from the Hadrami diaspora, pivotal settlers fo the consolidation of Muslim communities in Indonesia, Saleh's great-grandfather, Sayid Abdullah Muhammad Bustam served the Dutch as the deputy-regent of Terboyo and was a loyal supporter of the Vereenigde Oost-Indische Compagnie at the time of the Chinese Revolt (1741- 42). Since then, the Bustaman family had maintained a privileged position within the Javanese aristocracy. Both the sons and grandsons of Sayid Abdullah Muhammad Bustam became officials of Javanese regencies governed by the Dutch. Raden Saleh's grandfather was the first Javanese to send his sons, Raden Sulkur (1803) and Raden Saleh the Elder (1801) to study at the British Durrumtollah Academ in Fort William, Calcutta. It is known that after his return to Batavia in 1815, Raden Saleh the Elder mastered the English language with remarkable propriety.
These and other strong affiliations with the foreign, or in other words, the presence of a certain Otherness in Saleh's family history were quite exceptional for the time, and perhaps are already a prelude for Raden Saleh's journey to the Netherlands. Important to mention, however, is the fact that even this supposed 'cultural enlightenment' and the possibility of advancing into a certain class-consciousness and erudition, were very much part of the colonial program as a normativizing tool. In that matter, Werner Kraus will observe that one of the reasons why Saleh's 'expedition' to Europe took place, as the first educated Javanese to ever achieve such deed, was to prove the thesis of European enlightenment: "That each human being can be developed into a modern, enlightened person by the mode of (European) education. After all, it was the pronounced mission and ideological established duty of all colonial powers to civilize the rest of the world - the well-known white man's burden." (Kraus, 18 July, 2017).
In 1852, his father, Raden Saleh the Elder, was accused of treason and arrested, due to Raden Sulkur's affiliation to the Javanese resistance movement led by Pangeran Diponegoro. As a result of that, he was sent into exile and later permitted to live in Sumenep, Madura.
These and other terrible actions dealt out by the colonial power to his relatives and countrymen were thus among the earliest memories of "our" Raden Saleh. If one were to seek one common theme that recurs throughout his life, it would be the desire for respect. Like any of us, he wanted to be respected as a person, irrespective of his race or descent, and did everything in his power to achieve this. This attitude may well have evolved at an early stage in his life as a result of the many instances of the humiliation of his beloved relatives that he experienced (Kraus, 31).
If for Kraus, the humiliation suffered by Saleh's relatives and countrymen is what constitutes some of the early memories of "our" Raden Saleh, it is precisely here, in the embodiment of his own heritage, that Saleh's narrative and the anthropophagic undertaking intersect. Thence, the Otherness in the body, not only of Raden Saleh himself, but also of his predecessors is what stimulate in him the quest for experiences 'abroad' and the pursuit of his subjectivities; also informed through the collective experience of indoctrination by the Dutch, and thus the 'unavoidable otherness in oneself' Furthermore, an unconscious devouring of Otherness, is multiple and variable. Rolnik will define it as an anthropophagic cultural micropolitics; and a process of poetic and metaphorical singularization through foreign influences.


Broadly, this subjectivity is constituted by the absence of an absolute and stable identification with any repertoire, and the absence of blind obedience to any established rule, giving rise to a plasticity of the contours of subjectivity (instead of identities); a fluidity in the incorporation of new universes, alongside a freedom of hybridization (instead of ascribing a truth-value to any particular universe); and a courageous experimentalism taken to its limits, alongside an agility with improvisation that created new territories and their respective cartographies (instead of fixed territories with their predetermined and supposedly stable languages) (Rolnik, "Avoiding False Problems").
Although referring specifically to the Brazilian multifaceted subjectivity, the same can be said about Raden Saleh, who through his own interest and agency did not accept an absolute artistic identification neither with the local Javanese expression nor with the later enlightened project of 'europeanization' that the Dutch had in stall for him. Therefore, the construction of his subjectivity as praxis (in the making), was very much his own project (either conscious or not), and the exercise of these different influences, culminated into a unique signature in his artistic practice. The asymmetrical colonial attitude firmly present at the time, however, never truly gave space for this dialogue to occur. Raden Saleh's own respect-driven program of emancipation as a human-being and establishment as an artist, both in Europe and in Java, exceedingly suffered the consequences of the colonial prejudice.
Raden Saleh. Arab Horseman Attacked by a Lion (oil on canvas, 154 x 168,5 cm), 1842.

Between 1830 and 1834, Saleh is on and off in the Hague, under the apprenticeship of Cornelis Kruseman (1797-1857) and Andreas Schelfhout (1787-1870). In July, 1833, he moves into his own rented apartment at the Hoogstraat. A year later, his work is exhibited at the salon in Amsterdam. Saleh is living as an independent painter in the Netherlands, where he constantly receives portrait assignments from the government and participates in exhibitions. In May of 1839, Saleh goes from the Hague to Düsseldorf, where his contact-person is Friedrich Wilhelm von Schadow-Godenhaus (1789-1862), director of the Düsseldorf Art Academy. In the same year, he lives for sometime in Berlin and takes part in an exhibition in the German capital. Around September he moves from Berlin to Dresden. Saleh's paintings in Dresden are characterised by a local reviewer as 'breathing life, tropical glow and truth!'
THE PURPLE ROSE OF JAVA
some figures of speech
In her 1992 article,
Subjectivity and History
, Suely Rolnik defends the idea that precisely in the 19th century we see a shift in the discourse of subjectivity. A century in which the set of ideas that constitute the modern subject are situated. It is when subjectivity ceases to be 'stable to itself'; whereas before, the presence of the Other had a neutral impact, the 19th century will see that this ineluctable encounter brings forth 'turbulence to the order of identity', threatening to disintegrate it as it was formerly conceived. If before (in Western society) one's subjectivity could be binarily defined, reflected and represented through a singular cultural/gender construct, a deviation in our collective subject takes place by the encounter and devouring of Otherness. Colonialism itself failed to predict the disintegration it started.
[Figure A]
We can imagine this transition as the presence of an uninvited stranger in one's house. This stranger has imposed their presence, despite the fact of being uninvited. Their presence is fruit of the house owner's encounter with Otherness, having this fact their liking or not. The intruder makes it impossible to keep the house in order, and induces a certain degree of terror in the house owner. He will with all his means try to get rid of them or neutralize their presence. One of his strategies is to write a mediated script: where the spaces occupied by both the house owner and the intruder are well divided and ought to be respected.
4
Logically, within 'European' borders, artistic exchanges of all sorts were already taking place. But the figure of the oriental artist, nevertheless, was still dazzlingly exotic. Therefore, Raden Saleh had the advantage point of representing that rather 'unknown' part of the map, and could use both his own experience and the cartography present in the colonial imaginary for a potential making of his own figure through his art.


Friedrich Carl Albert Schreuel. Portret van Raden Syarif Bustaman Saleh (oil on canvas, 106,7 x 85,3 cm), c.1840.

In the recently published, Asia through Art and Anthropology, John Clark will address the contemporary Asian artist as a "long-distance cultural specialist" (19). For Clark, one of the early influential movements to shape modernity in Asia is the reaction to the European influence; most specifically that of Realism. Not only in Dutch ruled Java, but in many Asian contexts, this same appropriation of styles from their respective colonizers was taking place. In Saleh's case, the Romantic influence was by far the biggest in the consolidation of (his) modernism, and hence, Indonesian modernism. Raden Saleh's work embodies a new intercultural craft. As after struggling to find an own style in his initial years in the Hague, he will later find it precisely in the moderation of the 'exotic': between the Java of his youth, and the crystallized idea of 'oriental' that an European audience at the time potentially carried. Thus, we can say that Saleh's case is fundamental to the notion of "long-distance cultural specialism" presented by Clark. His self-assigned task of transporting knowledge from one visual discourse into another, from both a thematic and technical point of view, brings these two discourses together into a synthetic virtual realm, existing in the tension between Saleh's visual realities.

Often the fact that is being relativized is not apparent to the culture moved to because a kind of hegemony in practices and codes of production is presumed. It is when the artist moves into an imaginary third and virtual space between visual cultures or back into the originating one that loss of hegemony (i.e., relativization) in the original visual culture is recognized (Clark, 21).
The artist moves like a kind of storyteller who learns to tell many stories in ways that the other discourses through which he or she moves can learn to decode, interpret, and understand and have their hierarchies of value changed. They also thereby create an interstitial space for hybrid visual discourses between particular cultures (Clark, 21).


It is known that after our storyteller's initial years in the Netherlands, questions of authenticity started to arise for him. The available genres of the time did not conform with Saleh's ambitions. Although mastering the art of portraiture, strictly sticking to either religious, historical, landscape or portrait painting was too limited of a project for the Javanese artist. It was not until his encounter with Henri Martin from Marseille (1793-1882) that a new visual pathway was established for Saleh. Henri Martin was an animal trainer who instead of using force to control his animals, employed only sensitivity and patience. Saleh saw Martin's show in the Hague around 1837 and developed a great interest in depicting his lions, still alien creatures to him at the time. An unequivocal motif and fertile ground for his whole oeuvre starts at this very encounter with the lions of Henri Martin, worked-through the romantic French style and the "untameability of nature" further developed in his period in Dresden and Paris (Kraus, 40).
Werner Kraus further reminds the reader that: in the poetic lexicon of the Romantics, the Orient, would stand for that which is eternally noble, dream-like and sensually intoxicated. Therefore, to paint scenes of battles, lion hunts and tropical storms were perceived as characteristic motifs of a Javanese painter. Saleh came to the conclusion that assuming this prevalent image of the Oriental, was very suitable to his Asian character. Hence, within a certain negotiation of interests, he unintentionally perpetuated this crystallized vision. After leaving the Netherlands for a study period in Germany, still supported by the Dutch crown, Saleh arrives in Dresden in 1839. Dresden was a city which breath art and culture, and had an important role in Germany as one of the main Romantic hubs at the time.

In Dresden, Raden Saleh became an oriental metaphor, aglow with internal passion, a blend of wise, enlightened prince and sensual, licentious "Oriental" (Kraus, 49).

Whereas Raden Saleh had specifically chosen to dress in the European style in the Netherlands, he began to draw society's attention to himself in Dresden by wearing his Javanese national dress. This no doubt satisfied the wishes of the people of Dresden who displayed great interest and curiosity towards this talented foreign prince from the orient. While in the Netherlands, he was first and foremost an "inlander,"[...] people in Germany, which after all had no colonial interests at that time, viewed him with a romantic and idealized interest in all that was foreign or oriental (Kraus, 42).


In his intial years in Dresden, Saleh's hunting scenes and seascapes had already gained much attention. But he was committed to take the research on nature's untameability to a next level. In 1842, Raden Saleh starts to compose slightly more intricate paintings.
Arab Horseman Attacked by Lion
is the main icon of his Dresden years. In the painting, we see attacking lions and a horseback rider in his fleeing horse - contrasted against a vivid tropical waterfall. On depicting such scenes, he actually slightly betrays some of the values of Javanese culture: like the avoidance of conflict, and preservation of harmony, for instance. By accepting the specialty which was assigned to him, he envisioned the success and profit which the Romantic notion of Oriental Other could bring to his career. This Other was a construction which very much appealed to the nineteenth century European cultural landscape. It was pure theatre and spectacle, a spectacle in which Raden Saleh was happy to play the main part. He fulfilled the Romantic desire in the primitive and exotic - an interest reflecting Romanticism's own perverse programmatic dilemma in its search for an identity as a movement.
[fade-in, Figure B]

The stranger no longer provokes fear and is no longer afraid. He exists between agency and indoctrination. His subjectivity is built in the devouring of Other(s). He consciously unlearns his own language, his habits and ways of seeing and perceiving reality. But then again, his language is a language in the making, between discourses, within a hybrid self. The stranger starts his devouring by addressing sensations to the images that are presented to him: his desire is to participate in the production of these images.

In the anthropophagic ritual, so did the Tupinambás wrote the names of their devoured 'enemies' in their skin. That writing would also produce multiple reworkings of their subjective self. An own micro-political negotiation that takes place between distinct visual projects, and hence, gives birth to a third one.

[dissolve]
Théodore Géricault. The Raft of the Medusa (oil on canvas, 4,91 x 7,16 m), 1819.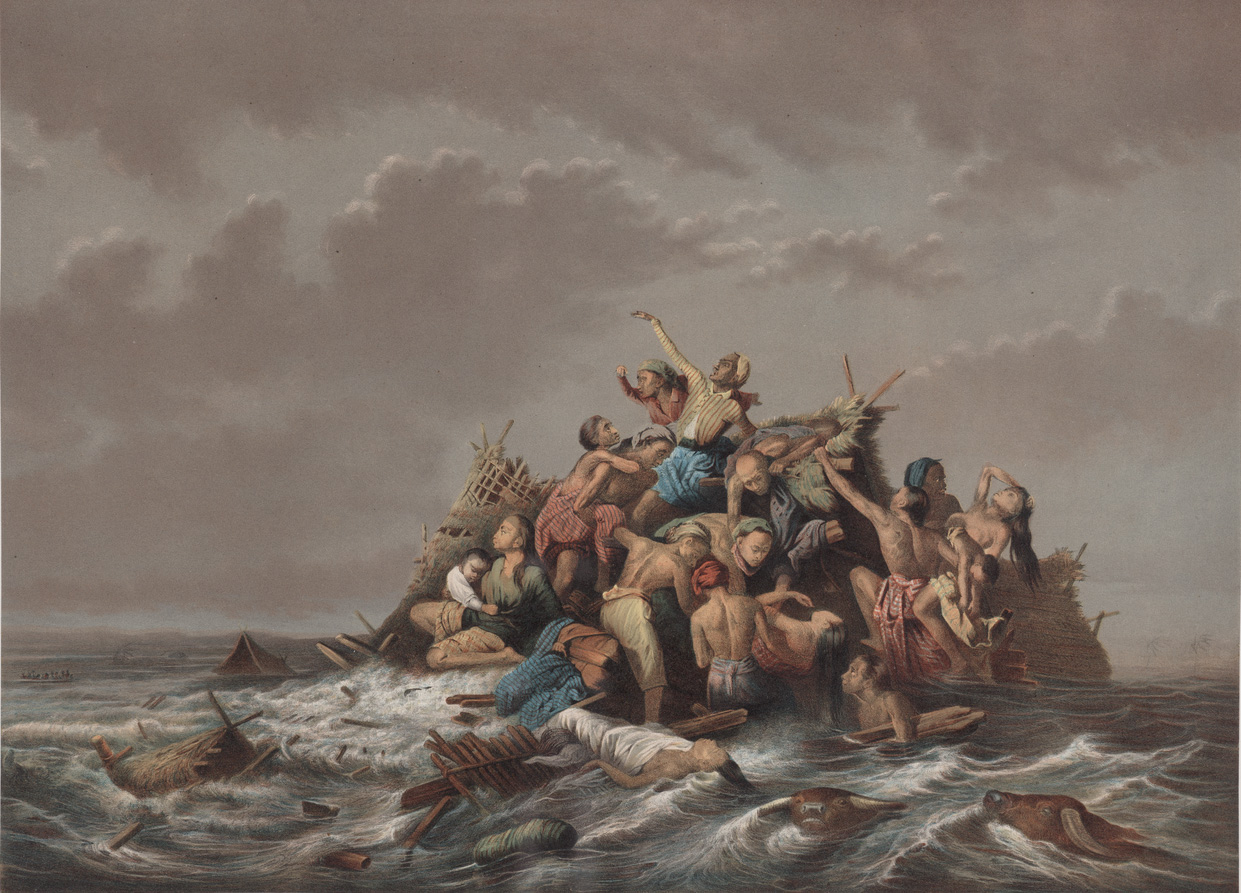 Raden Saleh. A Flood on Java (engraving, 32 x 44 cm), 1865–1876.



Saleh leaves Germany and goes to Paris under the counselling of the Dutch authorities in the last months of 1844. On his way to the French capital, he stops for a few days in the Hague. King Willem II receives him and awards him the Order of the Oaken Crown. Finally on January 12, Saleh arrives in Paris. There, he will be based until 1851. Getting into the high-art parisian circles proved itself to be more difficult than elsewhere Saleh had previously been. On March 15, 1848 - he takes part in the Paris Salon. His painting, Buffle d'Afrique Attaqué par des Lions, would years later be burnt in a fire at the Colonial Exposition.
RAFT IN THE FLOOD
a case study on anthropophagic appropriation
Abridging some of my earlier findings on the anthropophagic movement in Brazil, I believe it is important to stress its role in the shaping of Brazilian modernity in 1922. For the field of literature and the arts, an enhanced social consciousness and free experimentation in both formal and thematic aspects were only possible to achieve through the adoption of the man-eating figure as symbol of agency. Looking back at the Semana de Arte Moderna (Modern Art Week), the arts-festival where Andrade's Cannibal Manifesto was first launched, it is impossible to separate the movement from the political and economic turmoil of the time. Target of criticism (mainly due to the high-societal background of its agitators) the Week was not fully understood in the 1920's Brazil. Capitalism was growing in the country and consolidating the coffee oligarchies which constituted the São Paulo elite (the same elite which the modernists were part of). Thence, analogously to the foreign capital came also the foreign culture. Andrade and his contemporaries were deeply influenced by the European avant-gardes. Luis Pérez-Oramas, in his recent essay:
Tarsila, Melancholic Cannibal
, will point out to the fact that, Tarsila do Amaral (1886-1973), the artist which represents Brazilian modernism at is finest, was in fact not in São Paulo in the infamous week that gave birth to modernity. Tarsila was actually in Paris; the same Paris where Raden Saleh would live and work in the 1840's. Pérez-Oramas essay comments further on the uniqueness of Tarsila's oeuvre, which like the artist herself, had arrived later in São Paulo. In some way confirming the hypothesis that the Semana de Arte Moderna failed in its purpose, as relying on utopia, could only remain unfinished. Remarkably, Paris is thence the city where the modernist projects of both Brazil and present-day Indonesia intersect, through the figures of Raden Saleh and Tarsila do Amaral.
Tarsila do Amaral. Antropofagia (oil on canvas, 126 × 142 cm) 1929.

To place Raden Saleh and Tarsila do Amaral side by side is the effort of a much longer and complex devotion. This propositional journey cannot perhaps in the present text be my subject, as it might as well be the sparkle of a future project. Hence, I would like to propose the interconnection between the two artists and their modernisms so far only as an image. Connecting Brazil and Indonesia through the longitude of the equator line. From Brazilian modernism we borrow the very gaze of anthropophagy and give it to Raden Saleh, exposing the politics of appropriation with the eyes of the cannibal. A pleasure and great curiosity to appropriate, which was with no doubt shared by both Tarsila and Saleh. For Tarsila, anthropophagy was also subject-matter. Pérez-Oramas beautifully illustrates the relation between Tarsila's most canonical paintings, A Negra (1923), Abaporu (1928) and Antropofagia (1929) as follows:
Such is the metaphor, or the parable that leads me down a strange trajectory: the idea that A Negra was devoured by Abaporu, and that from that swallowing, that (symbolic) digestion, arose Anthropophagy. Just as the anthropophagic project could not come to fruition a the time of its first articulation, but only later delayed, appropriated, devoured, gulped down for other uses and other fates (just as Oswald's manifesto was itself a delayed effect, an après-coup, of Michel de Montaigne's essay "Des Cannibales," published in 1580. Tarsila's work, too, came to fruition later, becoming central in that history only when its trauma, or the effect of its trauma, had been made digestible (Pérez-Oramas, "Tarsila, Melancholic Cannibal").


In parallel, we can say that Raden Saleh's efforts in regards to the idea of Indonesian modernity are harder to trace, since Indonesia as a political territory only emerged during the beginning of the 20th century. Nevertheless, if Tarsila do Amaral (although better encompassing Brazilian modernity than any other artist at the time) arrives later in Brazil, Raden Saleh gives birth to modernity in a country which had yet to exist. So far, concerning the life and art of Raden Saleh, I believe to have proven the necessity of the anthropophagic gaze; that is, anthropophagy as a way of looking; as a framing device for the devouring of Otherness in Saleh's oeuvre. Raft in the Flood, however, also exposes a secret antithesis: the encounter of Raden Saleh with cannibalism as a subject matter. An encounter which just like in Tarsila's case, also took place in Paris. It is known that Raden Saleh saw Théodore Gericault's Raft of the Medusa (1819) at the Louvre, shortly after his arrival in 1845. Gericault's painting produced great effect on him, and would later become the inspiration and object of devouring for one of his most famous paintings, A Flood on Java (1865-1876).

The Raft of the Medusa was devoured from the real ordeal of the homonymous French frigate, which ran aground off the coast of Arguin on 2 July 1816. It is reported that at least 147 people were set adrift on a hurriedly constructed raft; all but 15 died in the thirteen days before their rescue, and those who survived endured starvation by practising cannibalism. Two of the survivors, Jean-Baptiste Henri Savigny and Alexandre Correard, wrote a widely-read book about the case, in which the horrors of feeding from human flesh are expressed as follows:

... an extreme resource was necessary to preserve our wretched existence. We tremble with horror at being obliged to mention that which we made use of! we feel our pen drop from our hand; a deathlike chill pervades all our limbs; our hair stands erect on our heads! - Reader, we beseech you, do not feel indignation towards men who are already too unfortunate; but have compassion on them, and shed some tears of pity on their unhappy fate (52).
Tarsila do Amaral. Antropofagia (oil on canvas, 126 × 142 cm) 1929
Although being only one of the many accounts in which the colonizer figure meets the practice of cannibalism throughout history, it is perhaps in the fueled imaginary of the Medusa affair, that the experience of anthropophagy is widerly remembered. For the men in the raft, it was a matter of survival. In the raft of the Medusa cannibalism did not stand for the fear of the other but for the fear of oneself: of the capabilities of the 'civilized' man to go as far as eating his comrades for the sake of one's own survival. In addition, the work also reflects a strongly present nineteenth century political debate: the characters in the Medusa are "outcasts", simple people who have been betrayed by the regime and abandoned to death by their captain. An African man is the Raft's hero; a black man who waves his handkerchief, calling out for help. Together, the men in the raft represent neglected segments of French society. Raden Saleh's Flood on Java is the mirror-image of Géricault's Medusa. Hence, the cannibals in Géricault's raft become the characters in Saleh's raft; a language of secrecy traversing two distinct visual projects.

Saleh's raft, however, drifts in a flooded river in central Java. Seventeen people are finding refuge from the flood. We see a Wedono (district administrator) and what seems to be his assistant on the highest point of the raft. It is not clear if the victims will be rescued, not only despair, but also hope is very much present in the composition. What we see in Saleh's anthropophagy is the disclosure of power relations in Dutch ruled Java: the Wedono is the one who waves the handkerchief, occupying a high hierarchical position. While the outcasts in the bottom, aren't capable of organizing help by themselves. On the one hand, it is a comment on art history itself, as Saleh manages to subvert the social dynamics present in Géricault's Medusa. On the other hand, as concluded by Kraus, the coded message is deeper, and states that the Javanese cannot rely on help from the colonial authorities.


In the early summer of 1848, Raden Saleh travels back to the Hague and starts to arrange matters for his return trip to Java. Still before embarking, some of his paintings are shown in Dresden on July 15 in the 'Living Masters' exhibition, and a few months later he is given the title of 'Royal Painter' in the Hague. Finally on October 1851, due to the state of his long-term arrangements with the colonial authorities, Saleh's return journey to Java takes place. In 1853 he is selected as the Keeper of the Colonial Government's painting collection and slowly starts to establish himself as a painter in the Indies. His masterpiece, The Arrest of Pangeran Diponegoro would be ready by the end of 1857. Twelve years later, he is arrested for suspected participation in a revolt against the colonial authorities. Although his innocence was quickly proven, this episode is said to have weighed him down until the end of his life. In 1875, accompanied by his wife and niece, he travels to Europe for a last time, where he would spend around three years visiting friends. His wife dies shortly after their return, in 1879. A year later, Saleh dies in Buitenzorg and is buried at the Kampung Empang.

Raden Saleh's unique perspective on life - after being displaced for so long from his home country - made it hard for him to integrate fully in his return. If in Europe he was already accustomed to his status of 'European Javanese'; in Java it was clear that he had a deep wish to participate in the modernization of his own culture. With his set of skills and experiences it is hard to imagine anyone else as qualified for the task as him. However, Saleh failed in his purpose. Kraus will attribute this failure to the racial arrogance of the colonial powers. There was no respect towards non-Europeans, especially not towards those with "brown" skin. For that matter, he was never accepted in the colony's intellectual life. The social marginalization he suffered, led Saleh to depression and embitterment.


What we have here, in other words, is a dazzling phenomenon. Just like with a holographic image, it depends from which perspective we view it: at times Saleh appears to be like a trail from the German Romantic comet, while at other times he seems to be the Prometheus of Javanese modernism, who may not have offered his people fire, but did offer them a view of a world largely demystified of its demonic, metaphysical and magical aspects (Kraus, 66).
All malays who undergo a process of Europeanization are unsuitable for Java and are kept at a distance on account of their free-thinking ideas. This is why the empire is also closed to Raden Saleh, for the thinking man is an object of horror for the Dutch who require blind obedience (Lützow, Therese von. " Letter to Hauptmann Zöllner").





Raden Saleh. Deer Hunt (oil on canvas 182,88 x 292.10 cm), 1846.

The means of oppression in the Indies were extremely singular when compared to other European colonies at the time. When it comes to the politics of language, for instance, the Dutch in Java had a special take, as instead of obliging people to speak the Dutch language, their means of control was to actually restrain natives of addressing them in their own language. According to Kraus, the Netherlands' lack of self-assurance, being the country a small nation, had most to do with it. Natives were not allowed to learn Dutch at least until the end of the nineteenth century. The effect that oppression has in one's body provokes irrefutable changes in one's sensibility. Saleh went through a crisis of his own worth and meaning of his work as a human being. The uneasiness of this crisis is also represented in his later Javanese paintings, such as Flood on Java. Perhaps the only process through which he could render beauty from this oppression. Under the framework of anthropophagic subjectivity, self-expression through art within the context of colonial oppression is the only way to challenge (subjectively) the cartography of violence. To give voice to a certain force manifesting in one's body.
If one accepts the idea that A Flood on Java is the tragedy which Saleh bares unconsciously within himself - painted in the middle of a crisis, racked by humiliation and displacement, what we see is Saleh himself, adrift; like a man working through his frustrations and expressing his anger.
According to Rolnik, in her article, the Geopolitics of Pimping, one's role as an artist is to investigate the present and partake in the changes that occur in actuality. From this perspective (in which art is seen as a way of thinking) the politics of subjectivity is therefore in crisis - especially when it comes to dialogues of Otherness and cultural creation (25). The beginning of this crisis starts with the experience of coloniality. For Rolnik, a transformation of these fields is still underway. In the twentieth century, we still experience the scars from this oppression and the (new) economies it has created: such as, the economy of contemporary slavery, the sexual economy of ethnicized others, the migratory economy and the economy of racial representation in advertising, to name a few.
Looking further, aside from the Brazilian decolonial project, the notion of 'devouring' traverses many and distinct contemporary critical discourses. American scholar, bell hooks, will argue in
Eating the Other: Desire and Resistance
, that the white desire for the primitive and their fantasies towards Otherness are still very much exploited nowadays. For hooks, the given exploitation works as a tool for maintaining white status quo. Rhetorical relations between 'devouring' and 'desiring' are suddenly transformed in the encounter with all tha is 'different'. In the realm of sexuality, she analyses a common slang between working-class British men and women: the term "to get a bit of the Other" is a way of referring to sexual encounter in contemporary Britain.
Fucking is the Other. Displacing the notion of Otherness from race, ethnicity, skin-color, the body emerges as a sit of contestation where sexuality is the metaphoric Other that threatens to take over, consume, transform via the experience of pleasure. Desired and sought after, sexual pleasure alters the consenting subject, deconstructing notions of will, control, coercive domination (hooks, 22).

The postcolonial crisis and the process of change in our collective unconscious can only be analysed and discussed under a transdisciplinary gaze. In this gaze inumerable layers of reality are interwoven. Among these layers are the macro-political plane, its sociological exteriority; and the micro-political plane with its forces that shake reality and re-shape its forms. This process - that of justice and reconciliation through desire and subjectivity - informs the contours of the path to be taken. Critical passion is one of its means, so is art. Raden Saleh and his modernity are two of the many characters in the narrative of anthropophagic gazing; and in the bigger project of decolonial nostalgia we must learn to address.




---
FOOTNOTES
1.
All biographical accounts present in this article were elaborated departing from a chronology elaborated by John Clark June on Raden Saleh.This research materi- al has been provided to me by scholar Peter Carey.
2.
For a more in-depth exploration of Saleh's biographical account, the best is to consult directly the writings of both authors, as my self-assigned task is not that of an art-historian who will focus necessarily on facts and their given context, but on creating bridges with parallel ideas and present-day available frameworks. Further on, I intend by no means to present a complete biography, but rather a fragmented one.
3.
Oswald de Andrade (1890 – 1954) was a Brazilian poet and cultural agitator. He was one of the founders of Brazilian modernism and a member of the Group of Five, along with Mário de Andrade, Anita Malfatti, Tarsila do Amaral and Menotti del Picchia; initiators and participants of the Semana de Arte Moderna (Modern Art Week) in 1922.
4.
Unauthorizedly cannibalized, appropriated
and reworked from Suely Rolnik's article ' Subjectivity and History.'
WORKS CITED
Boym, Svetlana. The Future of Nostalgia . Basic Books, 2001.
Carneiro da Costa, Manuela L and Eduardo B. Viveiros de Castro , Vingança e temporalidade: os Tupinambás, Anuário Antropofágico 85 . Tempo Brasileiro, 1986.
Crain, Caleb. "Lovers of Human Flesh: Homosexuality and Cannibalism in Melville's Novels". American Literature , 66.1, 1994, 25-53.
Clark, John (2013). Asian Artists as Long-Distance Cultural Specialists in the Formation of Modernities. In Fuyubi Nakamura, Morgan Perkins & Olivier Krischer (Eds.), Asia through Art and Anthropology.(19-32) London: Bloomsbury.
hooks, bell . Black Looks: Race and Representation. South End Press, 1992.
Kraus, Werner and Irina Vogelsang. Raden Saleh: The Begin- ning of Modern Indonesian Painting. Goethe-Institut Indonesia, 2012.
Kraus, Werner. Email interview, 18 July 2017.
Pérez-Oramas, Luis. "Tarsila, Melancholic Cannibal." post. at.moma, February 28, 2018, post.at.moma.org/content_ items/1095-part-1-tarsila-melancholic-cannibal. Accessed 14 March 2018.
Lützow, Therese von. Letter to Hauptmann Zöllner, Batavia, 25.2.1850, Nachlass Lützow, SBSP Berlin, Handschriftenabteilung.
Rolnik, Suely. "Avoiding False Problems: Politics of the Fluid, Hybrid, and Flexible." e-Flux, Journal #25, May 2011, e- ux.com/ journal/25/67892/avoiding-false-problems politics-of-the- uid- hybrid-and- exible.Accessed 15 July 2017.
Rolnik, Suely (1992). Subjetividade e História: Mesa Redonda no Curso de Psicanálise do Instituto Sedes Sapientiae. Rua, Campinas.
Rolnik, Suely (2011) The Geopolitics of Pimping. In Gerald Raunig, Gene Ray & Ulf Wuggenig (Eds.), Critique of Creativity. (23-40) London: MayFly Books.
Rosaldo, Renato. Culture & Truth: the remaking of social analysis. Beacon Press, 1989.
Savigny, J. B. Henry and Alexander Correard. Narrative of a Voyage to Senegal in 1816 Comprising an Account of the Ship- wreck of the Medusa and Observations Respecting the Agricul- ture of the Western Coast of Africa. The Marlboro Press, 1986.
Tylor, Edward Burnett. Primitive culture: researches into the development of mythology, philosophy, religion, art, and custom. 1923 . John Murray, 2013.
at the turn of the back of a crashing wave
---
photo archive, Imbé, Brasil, 2016.


#Epistolarities

---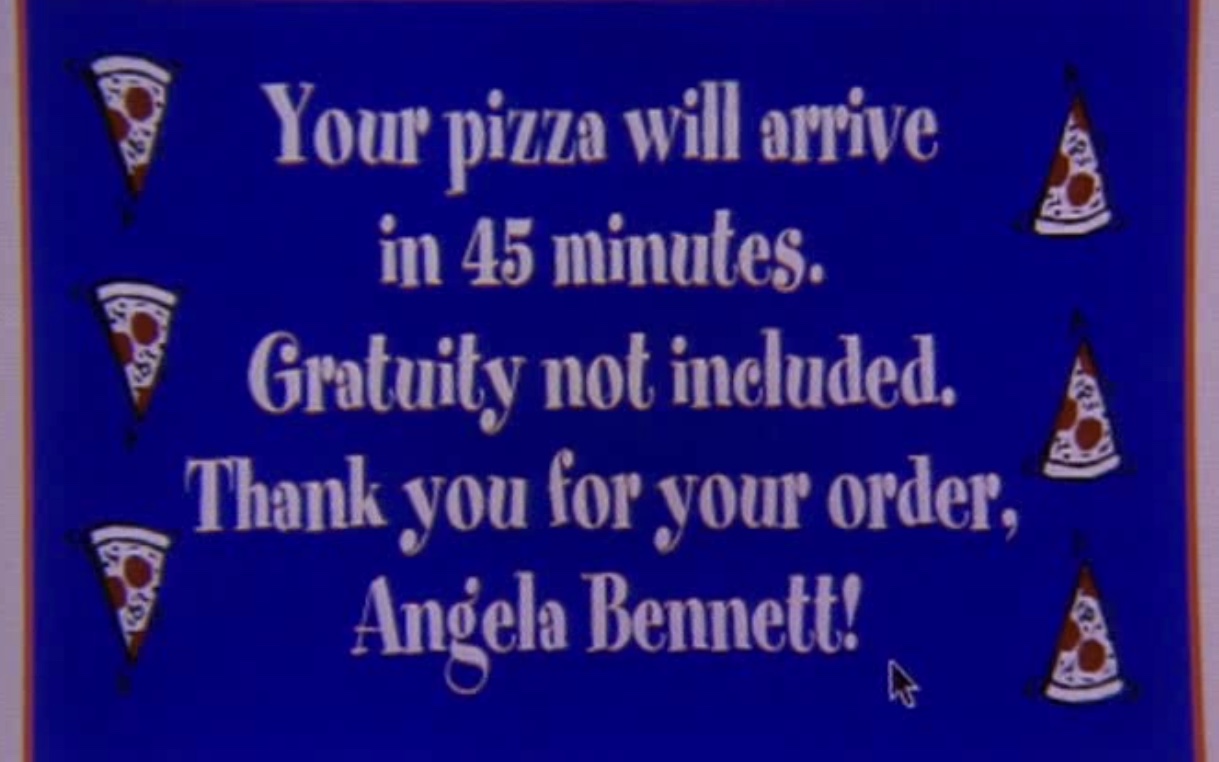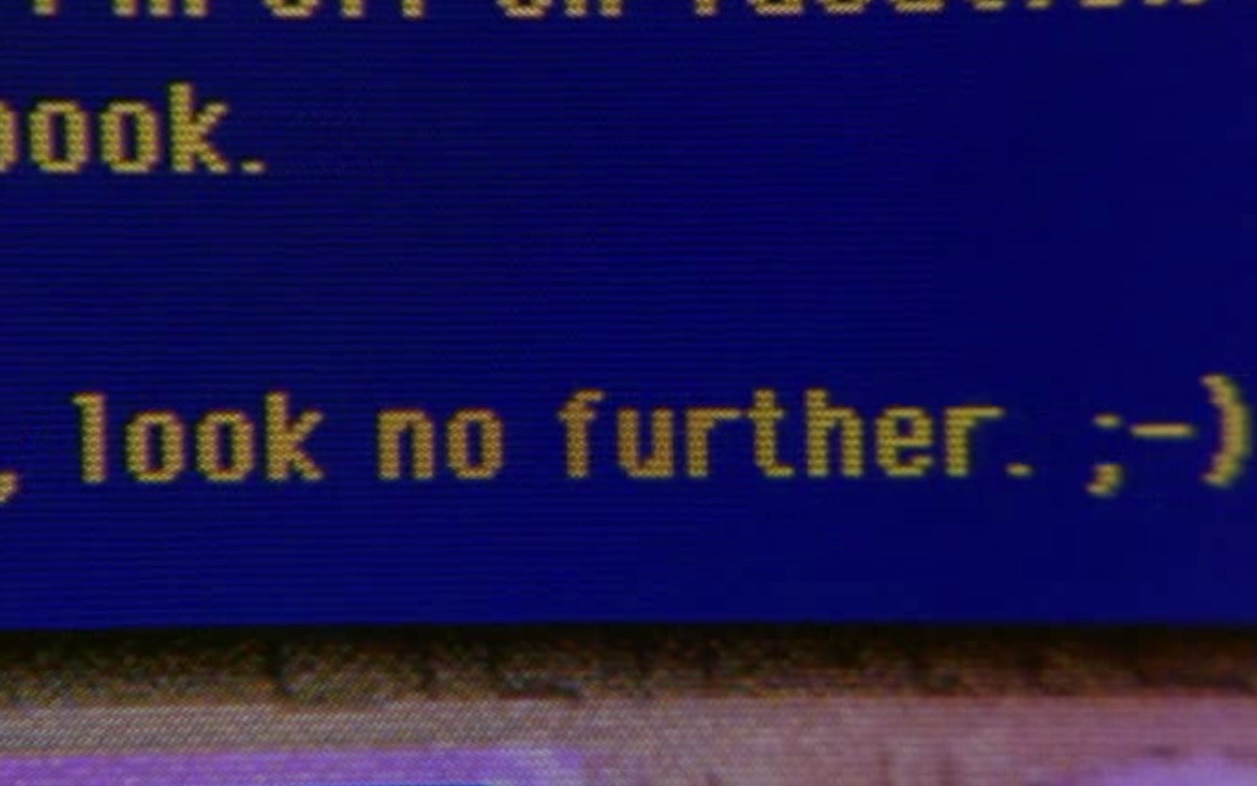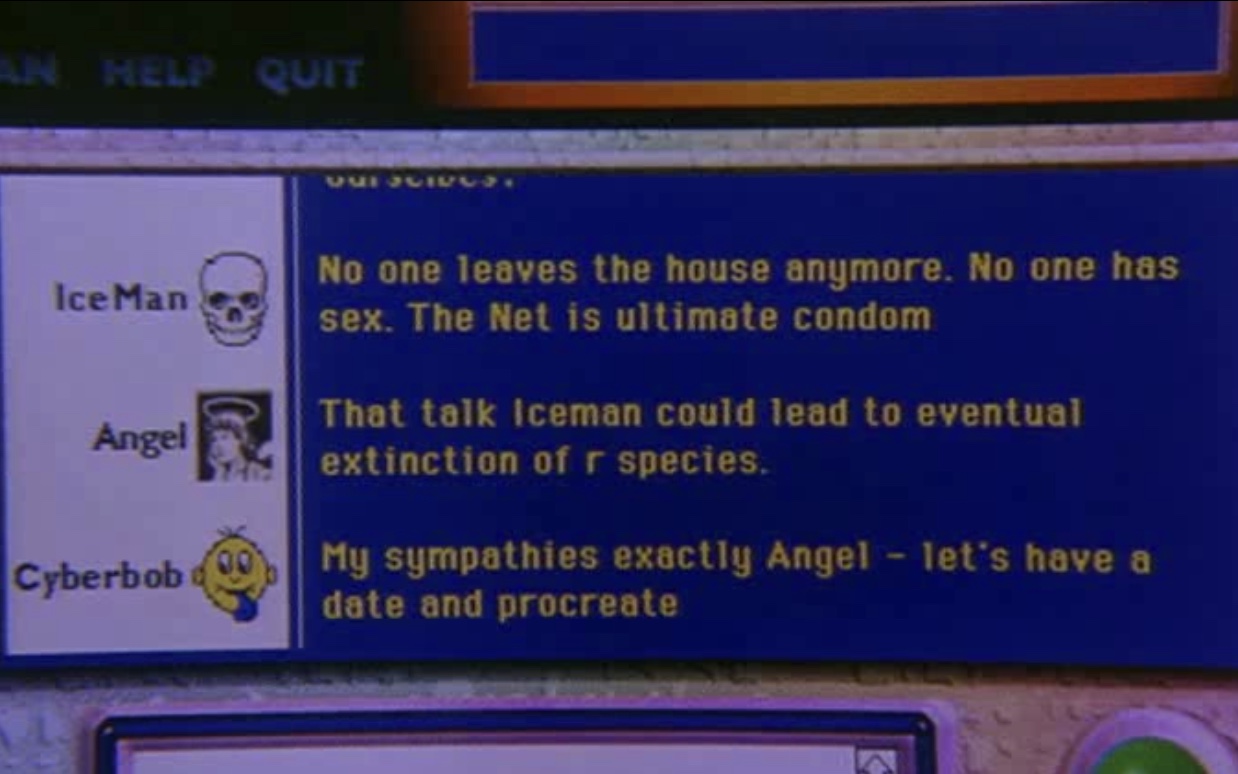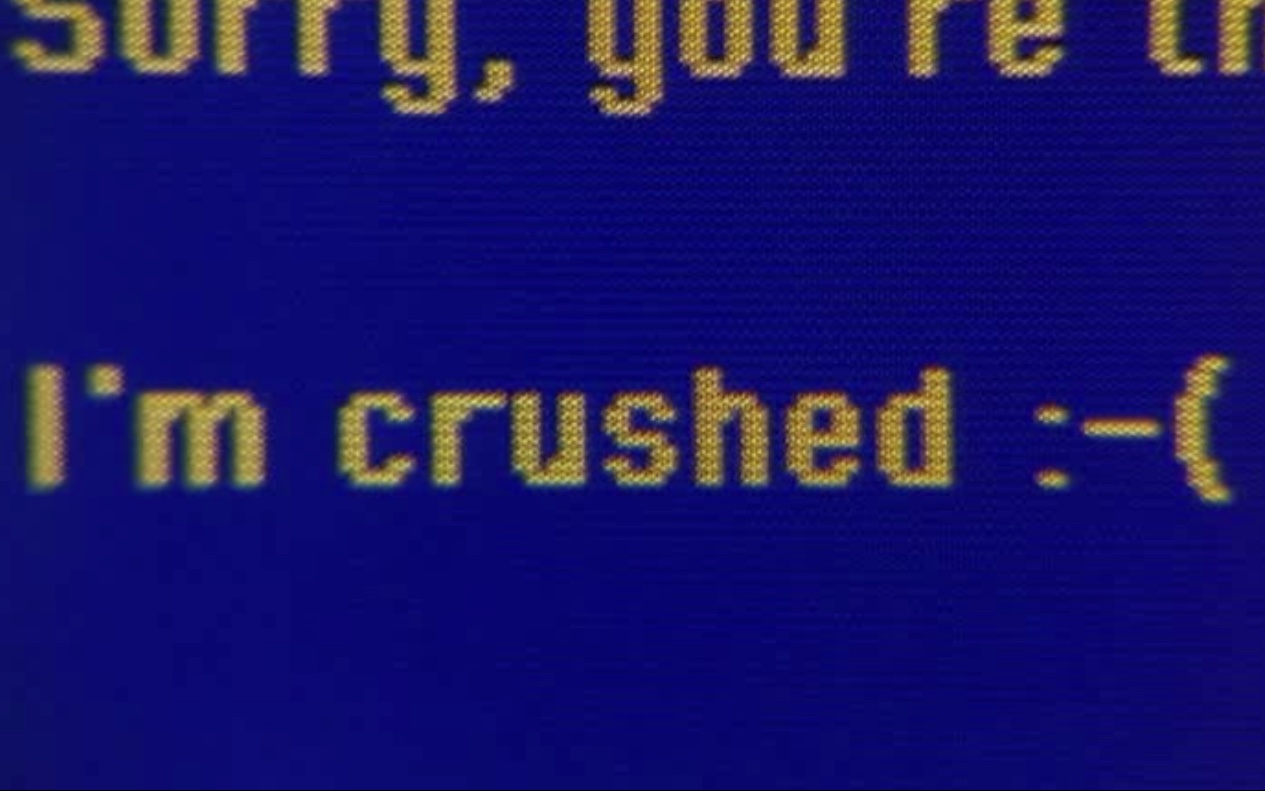 stills from The Net, Irwin Winkler, 1995.
magnani-cinecittà

---

I sit at the Magnani Café overlooking the market square. The double espresso I order is rather cold and yet I don't bother complaining to the barista. How could I forget about Bellissima? It was one of these notes I often save on my phone and later dismiss. This time it was a memory. Film with Anna Magnani in which mother wants daughter to become an actress. More than the film and its plot, I vividly remember the event of watching the film at the age of 12 or 14. I'm in the living room of my mother's apartment. She sits on the armchair facing the TV while I lay down on the couch. Anna Magnani plays a stage mother. She brings her daughter to an audition and later finds a way to secretly watch the audition screening. Maddalena (Magnani) hides with Maria (her daughter) in the projection booth. Leaning over a 35mm projector, they watch Maria on screen. The child walks towards a table where a birthday cake awaits her. Five burning candles. Maria tries to blow the candles without success and bursts into tears. Meanwhile in the screening room, all laugh at the child's performance.

There is something about Cinecittà and its screening rooms, something about the future of cinema and its coming into being by stage mothers and real mothers. I remember Bellissima as one of Visconti's most successful dramas when in fact it is known to be his most comedical film. Me and my mother sit at the kitchen table for lunch in the early afternoon. It must have been a Sunday; the perfect day for an Italian dramedy to be aired at noon. I did not drink coffee back then, but the taste of the double espresso at the Magnani Café sure takes me back to that kitchen. Alone at the table, I confess to myself: a half-decade's foreign desire, commanding me to return home yet home is no longer there. Home is the memory of Anna Magnani on a Sunday noon.



Through Magnani I experience being with my mother in the same living room. I experience my childhood apartment. Magnani holds a mirror from the TV screen and points it to my mother on the armchair. Reflected in Magnani's mirror of motherhood I feel the furniture, the texture of the leather couch on my legs. Perhaps I don't experience the apartment itself but what still exists in me from the memory of the apartment. The presence which the apartment occupies, the presence that presently occupies me, my mother's newspapers scattered about the rooms, a summer in the late 2000's.

Magnani's mirror grants sound to the stillness of things. Things that for years remained silent. I am sure Magnani's mirror exists outside of my imagination, it operates without my beign. I am sure my mother sees it too. I do not lend it my eye but the mirror insists in spying through it. The images of the apartment in the mirror paralyze me, in tears, bewilder me. A superimposed face, my face, Magnani's face, my mother's face, my leather-couch face asleep between frames, Cinecittà.
#Epistolarities

---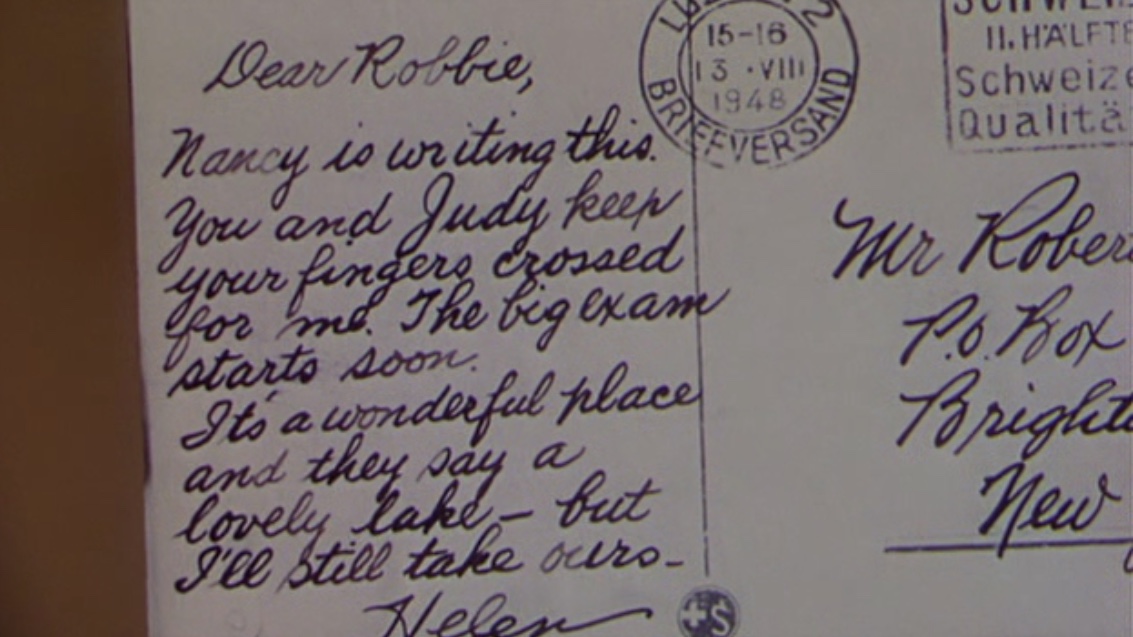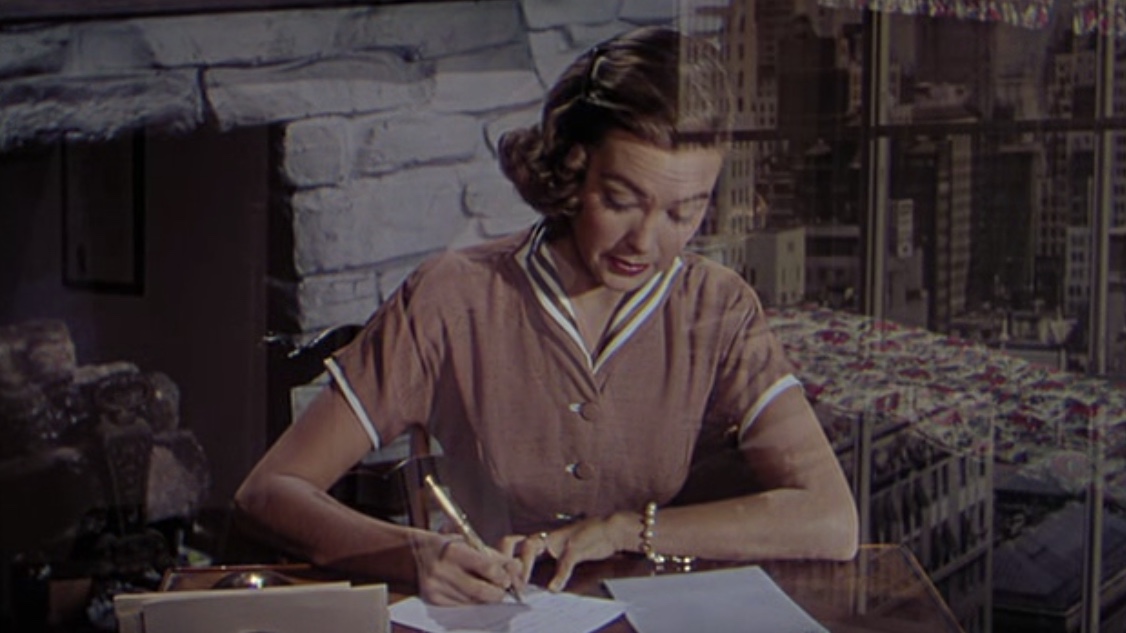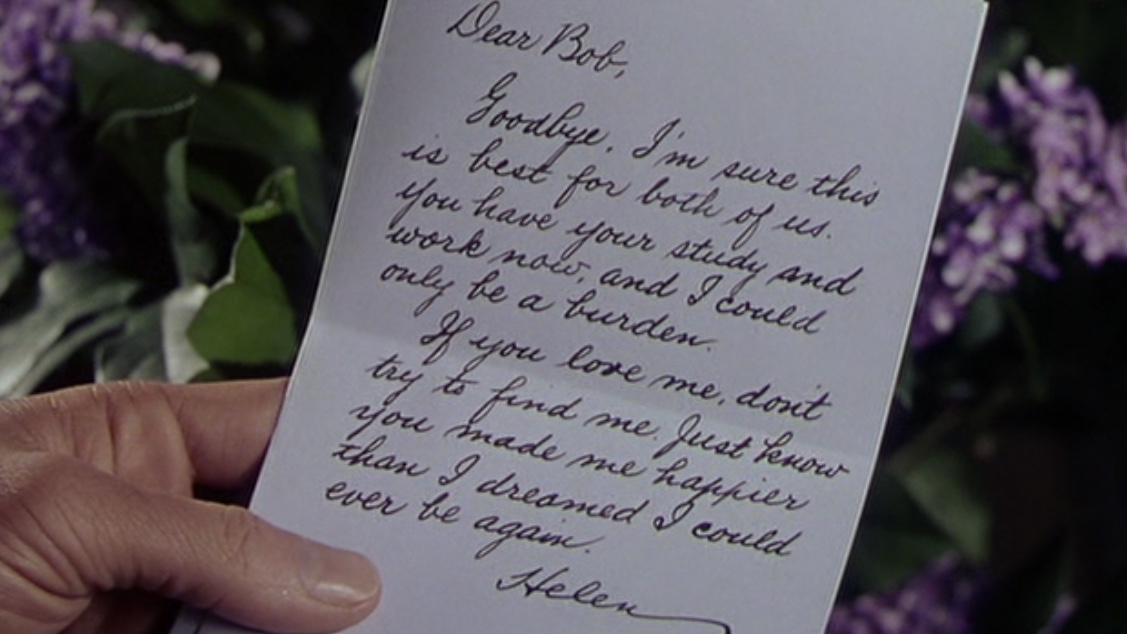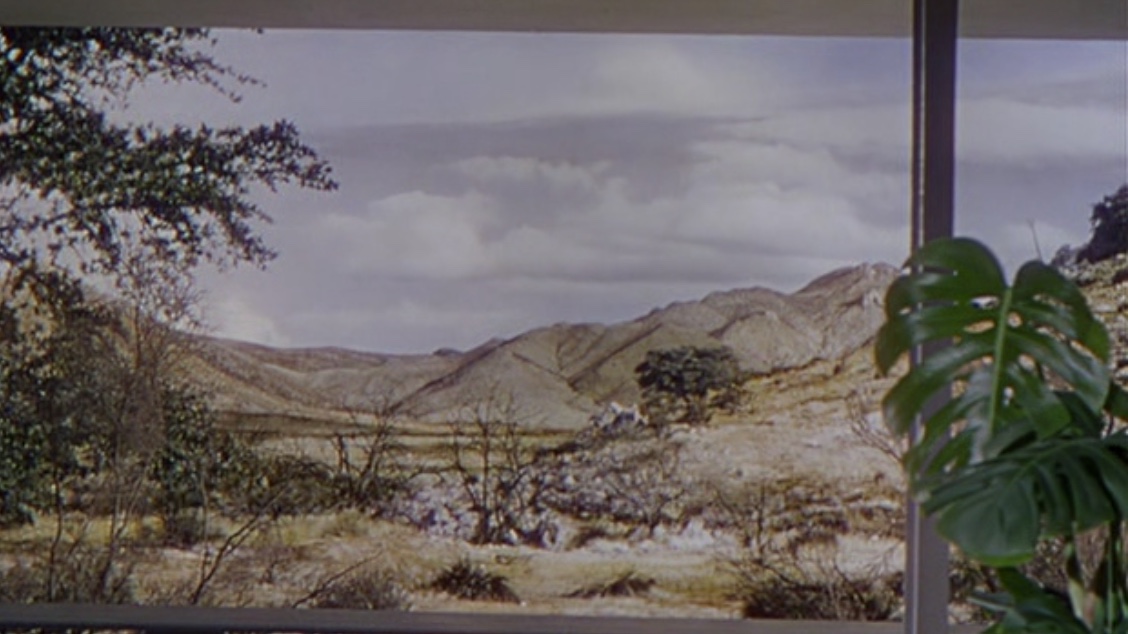 stills from Magnificent Obsession, Douglas Sirk, 1954.
the skin of strangers - vol.1

---
"A bit of bleeding but that's normal" - she said - while cleaning my teeth and the hidden corners of my gums with a metal instrument which I later learned was called a scaler. I had been avoiding going to the dentist for some years now, due to my growing fear of wearing braces at the age of 23, which some might consider still young and perfectly fine, but which might as well as have spoiled the chances of that second date I had been dreaming about for a while. "I've been flossing every other day" - I told her, admitting to myself this was neither a complete truth nor a complete lie. "I would rather have you using toothpicks" - she said. "The old fashion wooden ones?" - I asked. "Plastic!" - she replied, while demonstrating in my very mouth not only that I should use toothpicks, but how I should use them. This revelation had come off rather strange to me. My mother, my aunt, everyone in my family that I can think of had always flossed their teeth. Would I really be the one to break this lineage? I refuse, I thought to myself.

I gently accepted her advice and nevertheless agreed that this is what I should do. The appointment took place with entrepreneurial rapidity, I left the dentist's office without even sensing the slight inclination towards dental braces. It did not cross her mind. My teeth were perfectly fine all along. She would like to see me every six months for a seasonal clean-up, no gaps, no surgeries. My gums were not retracting as fast as I thought they were. I did not have the mouth of a 40 year old man as I thought I had. That said, I jumped on my bike and took the scenic route through the park. In days like this it was stupid not to do so and for a change I had downloaded a podcast recommended by a friend and was planning to listen to it on my way to the train station.

To love without criticism is to be betrayed. The podcast took a while to start and a little longer to get interesting. My fear of braces was suddenly dissolved among the sweat running down my arms under that unexpected March sun, my fear of braces had been subdued by the thought of queer criticism just as my hands transferred my sweat to the handlebars of my bike, just as in that Almodovar movie, just as, that famous film critic confessed experiencing sexuality for the first time when aroused by Michelle Pfeiffer's Catwoman in the 1992 Batman Returns. Like him, I had always been on the Batman team. I was never, not even for a second, seduced by Superman or Spiderman. The love of Batman was only later, and episodically, I should add, replaced by the love of Daredevil during my early-adolescence, after a growing obsession with Jennifer Garner had taken over my spirit. Daredevil and Garner were just a phase, but Batman remained. His two-fold double life, double identity. The one I lived over and over inside my head back in those days when everything was flash and crash. I was Bruce Wayne and I was also Batman. I needed to find Robin so that I could learn it the hard way. The gates of the park were nearing, I crossed the pretty canals, the mass of relentless tourists, I reached my first destination, I parked my bike, I realised I haven't been really listening, I had lost my interest too absorbed in thoughts, I took off my earphones, loaded my travel card, I hopped on the train.

The sun beams caressed my skin, the sun beams caressed the skin of strangers sitting across me in the silent cabin. I was on my way to meet Charlotte and the thought of him close to me made me happy. I hadn't seen him for two weeks. When we started off I didn't think I would be spending so much time and money on trains. I was getting accustomed to that uncanny sensation; the sensation that if I wasn't the one to jump on the train and go see him, he would not come and see me. Nevertheless, my position was not to be questioned. The one thing I knew, is that I did not want to feel like we were not together. I didn't mind the extra euros.

Charlotte had the power to make me feel incredibly safe and incredibly insecure, and for his luck, I did not know any other form of love. I was carrying my own video projector from home, I had taken it with me to the dentist, I had taken it with me around town the whole day. We had plans to watch a movie that same evening. Charlotte had also invited some of his friends. Scary Movie. My train was running terribly late and so at last when I arrived in his town I took an uber from the station. One of his flatmates, whose name I never really learned, opened the door for me. When we hugged, I smelled the air around his hair and realised he must have been the owner of that shampoo I often used in their shower. Charlotte was in the kitchen preparing a bowl of guacamole. I kissed his neck from the back to which he replied with a warm-hearted hello, he smelled of garlic and avocado. I could sense that yet his friends did not know about us. They asked where I was from and in which part of town I lived. "Oh, I live in the capital" - I replied - trying my best not to sound proud or snobbish. The choice to replace the word Amsterdam for the word capital had ruined it all. It made me sound exactly how I tried so hard not to sound and I was aware of it, and so was everyone else in the room.

We all ate guacamole-dipped nachos as expected; a terrible first meal for my cleansed mouth. My mouth was getting used to tasting again, in retrospect, I realise my senses were operating a little funky due to an overwhelming work of thinking which took over my hunger for the first half of the day. When setting up the projection, I took the liberty to plug the computer into his flatmate's speakers. The sound was loud, and it instantly annoyed everyone. I quickly pressed the mute key on my keyboard and slowly adjusted the volume. Reaching puberty in the early 2000's, Scary Movie was part of who I was as an adult and even though I hadn't watched the film for longer than ten or twelve years, I could still, to my surprise, recite almost every line by heart.

Queer criticism had once again come in-between my thoughts and my experience of being in that room, eating nachos and feeling Charlotte's half-embracing arms around me. Anna Faris' embodied Cindy Campbell in a high school thriller gone-wrong. Greg Phillipe and Ray Wilkins stood in the school corridor in between classes. "Hey dawg, does this shirt make me look gay?" At last I realised my post-teenage memory had erased Ray and its queer shame from my mind. His use of clothing in a feminine way, his love of Bob, his love of Greg. Ray was the half-in / half-out joke, the sight where language fails to grasp. He remained echoing in my mind until all of Charlotte's friends had left.

Suddenly I became aware of the absence of others. I knew I had spoken to everyone, shaken hands, said goodbyes and yet a part of me was still in Cindy Campbell's high school, in the closet, with Ray. "I am so tired!" - said Charlotte. His flatmates went to bed, me and him were left alone in the first floor, I was doing dishes while he was drying them. He hugged me from the back, resting his chin on my left-shoulder. I pressed his arms around me and leaned forward until his feet were off the ground and our bodies were one, mediated solely by his family-guy jumper, both our jeans and underwear. I carried him to the living room in that same position. That uncontrollable laughter of his, so close to my ears; my clumsy steps dragging us around the wooden floor; the heat of our bodies; making me feel that moment with my entire being. Now these images truly generate tensions, anxieties, intermissions. We fell on the couch, both knowing what that gesture ment, our complicity, what only we shared.

"I love you." - Never did I think to utter these words in that order, so naturally as then. "I love you as well" - he replied. As well as opposed to you too. What did it mean? Had he had the time to think things over in his head while anticipating my words? Had he had the time to consciously replace too for as well, in order to make me feel special? Or was it a sign of hesitation, did that as well replaced reciprocity? Turned it into something clinical? Did as well replaced the full meaning of the first three words altogether? We made tea and walked to his room upstairs. Charlotte took off both our pants as we laid in his bed staring deeply into each others' eyes. I needed some time to process my thoughts and ran to the shower. It didn't take me more than 5 minutes to wash my hair and full body, it was enough to calm down my nerves and enough to finish his flatmate's shampoo.



__

Later that month he travelled to Japan. My days were virtually interrupted by selfies from hotel rooms. Charlotte was Robin at the closing lines of chapter five. "Nora will leave that girl someday; but though those two were buried at opposite ends of the earth, one dog will find them both." A sentence so fiercely written it cuts through one's flesh, sharp as a knife on a winter night, shouting at the sudden interruption of a foretold love. "I'm coming by degrees to the narrative of our separation." As I opened his last message I was Flood, Nora Flood. My body was depleted by anger and defeat; a distorted temporality detached from its previous frame, exorcised with growing difficulty in a heart informed by the indifference of the mind; the joy of living in a heart all ours, as we used to say.

But though those two were buried at the same end of the earth, no dog will find them both. At that my bowels turned turtle, I kept what I could and made space in my stomach, reminding myself that forgetting was a true endeavour. Is it finally ending? This bee-like sensation, bee-emancipating itself from its sting through hurtful abdominal ruptures: a small sharp-pointed organ, a carefully planned operation. I almost don't believe it, but it must be so.

I have been reclaiming memories, sentences, making space in my hard disk by deleting our photos while finding my way around again. So worldly and corny, there it was, the true time out of joint. I was alone and my only suffering was my self-accusation. The accusation of a past tense poetics. My roman was not à-clef. I kept thinking of Charlotte's house, Charlotte's room. There was something about it. Something strange, that then fell on the stage. Something strange that had fallen upon us. Haunting his, his and my beauty. It smelled of pancakes, earl-grey and frozen leafs.

To write a separation is to relive it, I was taught. If only I accepted it before, perhaps I wouldn't be writing about it, I would be going through my address book, looking for that other guy's number. The one I was seeing last summer before it all started, before Charlotte started. I called him up all'improvviso. He was glad to meet. In fact, he was thinking of contacting me for a while now. I waited for him at the ice cream shop where we first met. Over the phone he convinced me that we had to go there again, for old times sake. I arrived early and chose a spot close to the entrance. Time passed to the reading of the menu. He arrived at the expected hour, his punctuality being a known fact, which at times he overdid - with a hair much shorter than the last time, he had tried just about every haircut possible. His wide range of looks astounded me. I didn't dare to ask about it, but we smiled at each other and I initiated the talk with "how are you?" just to wearily digest "it's all good back." I was convinced I should get a new haircut as soon as possible, change things up, initiate a new phase.

We enjoyed our ice cream without establishing much closeness or closure. Back then we could talk for hours and hours without speaking. In reality, speaking wasn't really part of our deal. "It's all good with me too." I kept it at that. I had some more to say but I didn't say: "I just wanted to hear you are still doing the same things, I just wanted to hear you still haven't found anyone. I don't even wish for anything to happen between us, but I just needed to remember what it felt like to forget…" As the ice cream shop closed, we moved across the street to Café Weigel, sometimes a dreadful tourist experience yet most of the time authentic and local, with weird objects hanging on the walls, cabaret-like furniture, pretzels and seasonal drinks.

The conversation arrived at the point I looked forward to. He disclosed everything at once, his new job, his new boyfriend. I realized that all my intentions for the evening had backfired. His new hair, his old-new guy, much older than me, his fancy old-new apartment, everything about him, his smell even: his smell reminded me of the hospital bed where my grandfather died from cancer. Something I failed to mention during the time we spent together. I should have known better. I should have. We ordered two glasses of pinot noir, with conversationalist tricks I held the interest in the air for about an hour, but just in time, looking at the fleeting minutes on my phone, finding the perfect excuse to leave.

A thunderstorm was about to begin and at last my new dawn began, without the morning dew, without the eyes of another. I grappled with content. The wind blew, a tree branch fell, then another one and yet another one. "One day I'll slam the door and never look back, I'll close the box and never open it again." - I did not say it to Charlotte, but it had been said, in the movies, in the theaters, in the stories we once read to each other in bed. "Only then, my shame for loving will not be turned into despair as I look at the shop windows in the main shopping street bearing my reflection" - wet and dry in an open-air corridor, where the click-clack of a lady's high heels endorsed my act of disengagement. I fell, asleep, he fell, asleep, somewhere else. "I hope this time we will learn faster to forget." To forget we were never one, we were always one, and two, one and two, and I could still hear the same clattering sound; a coming to terms, the very act of my disengagement; a stunt I had not performed alone.

"The dog, quivering in every muscle, sprang back, his lips drawn, his tongue a stiff curving terror in his mouth; moved backward, back, as he came on, whimpering too now, coming forward, his head turned completely sideways, grinning and whimpering," my tongue, his tongue, forever lingering in the convenience of a secret we shared. Farewell, he knocked on the door for the last time. Rumour had it Charlotte disappeared in Japan. It made things easier. In fact, I held on to that possibility as unknown happiness; happiness forced upon myself, happiness I barely dared to breathe, "thus far, I breathe."
Notes on Nietzsche Sils Maria Rochedo de Surlej

---

The forty-eight years of the Rotterdam Film Festival celebrated the fragile history of an art that makes no concessions. The Spying Thing placed the viewer in a world of forbidden gazes. Harun Farocki and Mariano Llinás took a ride on the Passenger's boat, where Andrzej Munk shot his last images between the rigidity of a clandestine-cinemascopic love and the experimentalism of a medium-format La Jetée; narrating the story of a crossing made as rehearsal; an unfinished film surfing the waves of the North Atlantic.




In the intervals of Munk's landscapes, between bitter coffee, gray skies and knives to the heart, the new film by Júlio Bressane & Rosa Dias makes us cry softly to the sound of Luar do Sertão. Rather than adopting the retrospective model, the Brazilian antichrists preferred to burn down the screening room with their aesthetic anarchy. In Nietzsche Sils Maria Rochedo de Surlej, a series of complicities between spectators and makers are established. Júlio and Rosa dispense the use of subtitles. The understanding of words divides the audience without excuses or trigger-warnings.

The two-way travel diary is filmed as the extension of the filmmakers' bodies, exploring the limits of video technology, uncompromisingly beyond the conventions of narrative cinema. A true case study on the destruction of visual pleasures, which actualizes Laura Mulvey's structuralism to the year 2019 whilst adding a Brazilian seasoning to the recipe of unparalleled flavor.

The experience of being in Sils Maria celebrating the life and work of Nietzsche is not fixed in anything besides experience itself. "This life, just as you live now and as you live it, you will have to live it once more and yet again and again: and there will be nothing new in it, every pain and every pleasure and every thought and sigh and all that is indivisibly small and great in your life will return to you, and everything in the same order and sequence - and likewise this spider and this moonlight between the trees, and likewise this instant and myself. " [1]




Júlio Bressane and Rosa Dias at Sils Maria achieve a different understanding of philosophy. Their cinema is renewed in the fresh air, in the mountainous landscapes and the waters of the lake. The camera is their research instrument; exploring the surface of precious stones; not in search for answers, but for life itself, the act of being alive and having one's hair blown by the wind. For Bressane and Dias cinema can be found anywhere. Their cinema asks us to look around oneself, think of our past and future, the collective, the individual, the cloud and the resistance; a film so ephemeral that remains almost invisible, but infinitely revolutionary.

---
1 Nietzsche, Friedrich.
The Gay Science
. Dover Publ., 2006.
skipped school and went to the movies
---


1985. A girl finds herself in a metro car. Looking through the window so as to avoid the gaze of other commuters. She sees a landscape of change: construction sites and empty lots announcing a city in the making. Tunnel passage. A masked figure reflected on the glass. She looks the other way, hopelessly searching for the source of the reflection. A station approaches. Berlin Heidelberger Platz. This is where she gets off. Ausgang. Approaching footsteps. It is the masked man: the mysterious figure on the windowpane. He distributes free tickets for a film showing. Metropol. A new movie theatre opens in town. Today, 6pm. Cheryl had to be in class, but yet she takes up on the invite and brings her friend Kathy along.

From all the Italian horror movies of the time, a noteworthy aura characterizes Lamberto Bava's Demoni, where a democratic link between pure entertainment and the passion of filmgoing can be found. It is however, no study case on cinephilia, but rather the cinephile's dream coming to life: to live inside a film, over and over again, to make that same film reality or make reality that same film. Filmgoing advocates for a different kind of knowledge. Filmgoers, consciously or not, learn from the images that talk to them in the dark. And although much can be argued in regards to the responsibility of the spectator, these images do not expect anything in return, except for a minimum amount of interest. The need to understand how things are connected (how one thing affects another and so on) is the need of the seer. The image can only communicate, infect, affect and contaminate. Cheryl and Kathy followed their deepest anti-institutional impulse: skipped school and went to the movies, little did they know that the pleasure of watching images in the dark, would this time, give no sense of liberation; if so, only a masochistic one. Event horizon. Point of no return.




Mark Fisher's reworking of Derrida's Hauntology offers us a fertile ground to assimilate the ghostly (or better placed demonic) experience of the film. On the one hand, we have the past informing the future. On the other hand, film becomes life. Transposition is the key-word. Transposition of media and bodies subject to being Cinema. For Fisher, the gravitational center of Hauntology as a visual and sonic project is the relation it bears to the failure of the future. The heavy electronic music present in Demoni only reaffirms this statement, as the anticipation of horror necessarily has to invoke the future in order to be effective. The lack of innovation or the exhaustion of form within commercial cinema (also) suggests that we are living after the future, and all that is left is nostalgia.

The Metropol Cinema is full of eccentric characters: a blind man, a married couple, a pimp named Tony and his two girls, amongst others. Exciting! The props of the film are exhibited in the foyer! While taking a closer look, Rosemary, one of Tony's girls, scratches her face with the display mask. The film is about to start. Four teenagers dig up the grave of Nostradamus, a sixteenth-century fortune teller who believed history repeats itself and supposedly predicted the French Revolution and the bombing of Hiroshima. Just like Nostradamus, Bava's Demoni operates as prophecy - revealing to us, for instance, the brutality with which analog film-projectors would later be destroyed in the 2000's in order to be replaced by digital technology, or further on, the transition between the collective experience of cinema to television and video-on-demand.

A clear link between nostalgia and the encyclopedic world of Italian horror is not readily available. Demoni, however, succeeds in activating nostalgia through its relationship to the Gothic - present in the film as a specter, with its aesthetic concerns blended and intersected amongst other motifs. The Gothic emerges as a site for the monstrous Other; modified and grotesque bodies that echo the phobias of individuality within a collective space: the film theatre.




Once the narrative from the film-within-the film is transposed to the reality of the theatre - through the figure of Rosemary (infected by the mask) - the filmgoers attempt to exit the cinema, with the surprise that while watching the film, they have been barricaded. One by one, they slowly get infected and thence transform. By the time the damage is irreparable, Cheryl has met the nice-guy and they both manage to flee, discovering that the infection has spread out throughout the whole city.

In Demoni 2, the Berlin landscape has changed. The Gothic is actualized in a high-rise building, where domestic life functions around a central object: the television set. Whether in the kitchen, in one's bedroom or at a birthday party, the television is turned on. Needles to say, a horror film is being broadcasted on prime-time. Once again, Lamberto Bava makes use of the classical mise en abyme (play-within-a-play). The broadcast-film follows a group of teens who trespass into a desolate city (the outbreak of Demoni). There they find the inert body of a demon who comes back to life. The awaken monster directs his gaze to the viewer(s): the birthday girl Sally, but also to us, watching Sally alone in her room, as if almost hypnotised by the image and its secrets. A good dose of flickering lights and special effects do the trick. The demons have once again come out of the screen. This time directly, as opposed to the first volume of the saga, where the (speculative) agency of a prop advances the plot, bringing horror into the world.

Despite the fact that both films take place in interior spaces, the city itself plays a very important role: That of celebrating and representing capitalist creed. Signs and symbols remind us that we are in the American sector of an occupied, divided city. In a further note, the act of trespassing a surveilled wall, only to find that a demonic infection has taken over the other side, is also highly symbolic of a city's ideological clash. Specters of Marx, Derrida's foundational hauntological text, would be released in 1993, precisely four years after the fall of the Berlin wall. In the book, the starting point for the writer's deconstruction is Marx and Engels' statement that a "specter is haunting Europe." Clearly, the specter of the 90's is that of communism and leftist ideology, in other words, the triumph of neo liberalism and the consequent discontinuation of (a) history.

Equally an impact of discontinuation, is the fact that none of the seven sequels of Demoni bare relation to the stories of the first two films, nor were they directed by Lamberto Bava. In fact, chronology was not a concern for Bava and his producers. On a trivia-note: the first Demoni was not distributed in Germany by the time of its release. Demoni 2 however, had its German release. Only it was re-titled to simply: Demoni… Once the first film was also distributed in Germany, considering it was now being released after its sequel, the title of the original movie was changed to Demoni 2.

Specters of Marx also opens the path for Derrida's take on the notion of tele-technology and the symptom of digital media in society. Coincidence (or the working of some spectral force) wanted Bava's Demoni to depict the same symptom a few years before its deconstruction. In the first film, we are confronted with three economies of looking: our own gaze towards the screen; the gaze of the filmgoers at the Metropol Cinema; and last but not least, the gaze of the demons from the film-within-the-film, who look back at us, ready to break the fourth wall at any time.

Demoni 2, however, compartmentalizes the experience of cinema in an infinite number of television screens. Thus, horror no longer belongs to the collective sphere, but to a private one, accessible through the simple pressing of a button. The provocation lies on the fact that this same button can no longer be pressed back. Teletechnology announces the rupture of space and time. The demons force their way in. Horror has come to stay.
Works /Films Cited:
Fisher, Mark. What Is Hauntology? Film Quarterly, Vol. 66, No. 1 (Fall 2012), 16-24.
Derrida, Jacques. Specters of Marx. Routledge Edition. 1993.
Demoni - Lamberto Bava, 1985, 88min.
Demoni 2 - Lamberto Bava, 1986, 91min.
Green is the warmest colour
---
Deep within the South American rainforest a new cinematic expression was born in the early 70s: the slasher cannibal genre; graphically violent films depicting the anthropophagic practice of indigenous tribes in contact for the first time with Western (predatory) civilisation. In film history, the colour green was the protagonist associated to this particular 'cannibal boom'. Green Inferno was the name given by many of these films to the very location in the heart of the Amazon forest where these tribes were to be found, and where most of the atrocities committed on camera take place. While cannibalism is the uniting headliner of these films, their focus is on various other forms of shocking violence. Italian director, Umberto Lenzi, originated the genre with his 1972 film, The Country of Savage Sex, while Antonio Climati's Paradiso Infernale from 1988 is regarded to have brought the trend to a close. Ruggero Deodato's (1980s) Cannibal Holocaust is by far the most well-known film of the period and in some ways epitomises what this human flesh-eating fictional phenomenon was all about.



2006 in Kassel, Germany: the court where Armin Meiwes is standing trial for killing, butchering and eating another man has been transfixed by a story of cannibalism and homicidal ritual. The details of the dissection and consumption of 43-year-old engineer, Bernd Brandes, would be barely believable, were it not for the fact that Meiwes, 42, made a video recording of the whole affair. What does it take to create such a monster, one might ask? Is Meiwes' monstrosity perhaps a media invention? Like anyone else, Armin just wanted to be loved. As an adolescent, he became obsessed with the crimes of Fritz Haarmann, the Vampire of Hanover, who butchered 26 young men in the 1920s. His mother, Waltraud, knew nothing of his fantasies and his increasing doubts about his sexuality.

After his mother's sudden death, Armin (then 37) began to turn his fantasies into reality. There was, he admitted, an overwhelming desire to eat a person, to consume someone utterly. And it was linked inseparably to his strong homosexual tendencies. He pursued gay relationships among his army comrades and frequented bars used by male prostitutes. After his mother's death, his thoughts turned exclusively to gay sex and cannibalism. The internet became the instrument with which Meiwes could set himself free. His message at the Cannibal Café Forum (an early-internet fantasy sharing domain) was seen by Bernd Brandes, who secretly harbored the fantasy of being devoured by another man. While the Cannibal Café is now closed, other websites devoted to cannibalism and necrophilia still thrive on the deep web. This was the culture behind the queer love of Armin and Bernd. If in the nineteenth century, cannibalism and homosexuality shared a rhetorical form, represented as the unspeakable, in 2001 Armin and Bernd rejected rethorics and advanced into a more practical terrein: Their love story however, was turned into a media spectacle. The media had created a monster.

To say that cannibalism is a relation of love is not to say that it is warm, cuddly, and nurturing. It's only to say that love and cannibalism can be confused. Cannibals and lovers both pay exceptional attention to the body of their desired. Fairy-tale cannibalism is a kind of exotic and forbidden act of sex. Love can be as possessive and as irrational as cannibalism. [1]

In Cannibal Holocaust, so are love and media spectacle entangled: the movie follows a team of American documentarists into the Amazon in search of cannibal tribes. The young and sexually voracious team disappears without a trace. What we see is the footage recovered after their disappearance. Cannibal Holocaust blurs the lines between fiction and reality. So did Armin Meiwes and Bernd Brandes, who were not satisfied with limiting their love to an online fantasy.

The color green; a synonym of the natural and beautiful, but also a synonym of the uncanny, of the alien experience. A color strangely associated to what is most natural and foreign to us. Yet, if the cannibal exploitation wave of the 70s and 80s and Armin Meiwes' video-tapes do not provide enough green to our plot, another cannibal episode in film history starts and ends with green: green climate disaster, green overpopulated planet, green devastating global pandemics, green poison in the air; Soylent Green - in the NYC of 2022 the temperature never drops below 90º. Over 20 million people are unemployed. There is no middle class. The poor sleep where they can and join together for the daily food riots: a 70s sci-fi flick based on Harry Harrison's novel, Make Room! Make Room!

The original story contains no cannibalism. Soylent Green contains no gay love (except for the tender friendship between detective Frank Thorn and his flatmate Sol Roth). Very little of the book's plot is reflected in the plot of the film (in which industrialised cannibalism is the solution for world-hunger). Humid green haze hanging over the city, an example of what Harry Harrison called background becoming foreground, when what we take away from a film is not the plot, but an overall image of the world in which the plot plays itself out. [2]

The supposedly 'found-footage' in Cannibal Holocaust uses a different film stock from the framing story. This film stock is grainy, scratched, and discoloured; the poor quality of the picture and sound add an extra layer of believability by mimicking what you would expect from 16mm film that had been sitting unprocessed in the jungle for months. Back in New York, professor Monroe, the man who retrieved the film cans from the jungle, now watches the footage, hoping to edit a shorter version under the assignment of a big TV channel. (Plot-twist) The young and bold filmmakers who had their fate sealed in the jungle also had a reputation for staging their documentaries. They were not exactly a fraud, but if they had decided that a subject wasn't exciting enough, steering events in a more sensational direction was the path to be taken.

So was Armin Meiwes a documentarist, and the old house in Wüstefeld his stage, where he would capture fragments of his life on video, including the fragment in which Bernd Brandes himself is butchered and fragmented. These video tapes belong to the German authorities, and the only proof of their existence are a series of screenshots leaked on the internet later that year. Through the gaze of the camera, the cinematic apparatus and the act of filming itself, Armin Meiwes and the filmmakers in Cannibal Holocaust exist in the same green human-flesh soup; either banalizing the anthropophagic ritual or staging it on celluloid and magnetic tape.




The internet has generated a seductive cyberspace. There, Armin and Bernd could find love at the Cannibal Café. A new wave of cyber-anthropophagy was born. Keep on filming! Keep on eating! As 2022 approaches, the reality of Make Room! Make Room! becomes more feasible. We feed from mediatisation, high-consumption lifestyles, (un)touching feelings, commodity pleasures and cannibal spectacles. Fuelling the economy from the green of the New York streets, where Charlton Heston runs after the secret of Soylent Industries, to the green inferno in the heart of the Amazon forest, where professor Monroe wonders who the real cannibals are. Bernd's life is changed when he meets Armin, the cannibal with the green hair who will allow him to discover-devour-desire. Meanwhile, Armin will assert himself as a cannibal, a gay man and an adult. In front of the same camera, Armin grows old, feeds on Bernd, becomes vegetarian, and ultimately finds himself through green consumption: eco-cannibalism is here to stay. Green is the warmest colour.

---
1
For a full account on this matter, read: Crain, Caleb. "Lovers of Human Flesh: Homosexuality and Cannibalism in Melville's Novels".
American Literature
, 66.1, 1994, 25-53.
2
Knipfel, Jim. (2018, January 30). why soylent green is more relevant now than ever.
http://www.denofgeek.com/us/movies/soylent-green/55332/
.